The beach festival, Arenal Sound 2015, is back
Publishing date 27/07/2015
The largest summer music experience returns to Burriana! One of the most important European music summer festivals starts this week. Between July 28 and August 2, the Arenal Sound festival arrives in the town of Burriana. The summer music festival counts in this sixth edition with an exceptional list of artists, such as Rudimental, the Kooks, John Newman and Tom Odell.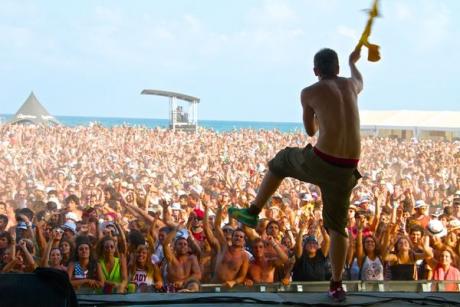 Arenal Sound is back in Burriana to celebrate its 6th anniversary. Well known as one of the most acclaimed and expected Spanish summer festivals, it turns our date with the beaches of Burriana into a summer classic. The coexistence of camping sites, concerts, boat parties, the pool, the beach and the good atmosphere will fill again this town in the province of Castellón. One more year, thousands of experiences will join this great event.

Take advantage of Burriana with six-day festival and camping on the beach, where more than 120 participating artists will perform, and among them: Rudimental, The Kooks, John Newman, Tom Odell, Delorentos, Zombie Nation, South Central, Subsshock & Evangelos, Voltage, It & Clown and Faceradio, Niños Mutantes, Second, Hola A Todo El Mundo, Holy Bouncer or CarloSadness, Vitalic, OK Go, The Ting Tings, Vinai, La Roux, Citizens!, Supersubmarina, Dorian, Nacho Vehas, La Habitación Roja or Zahara , among others.

The two camping areas of the Arenal Sound festival comprises more than 300,000 sqm, and they are equipped with all types of infrastructure, fully differentiated and independent: Camping Arenal and Camping Malvarrosa are the two facilities, which also feature a Glamping option, and rental of tents.

Get ready for the best music experience on the beach!