XV Volta a peu per les ermites de Burriana
Un año más, dentro de la celebración de las fiestas patronales de San Blas, la falla Don Bosco organiza, con el patrocinio y colaboración del Ayuntamiento de Burriana, la Volta a Peu per les ermites de Burriana. Esta vuelta es un recorrido, de unos 25 km, entre campos de naranjos y espacios naturales, como el Clot de la Mare de Déu, en los que se pueden visitar las seis ermitas ubicadas en el termino de Burriana.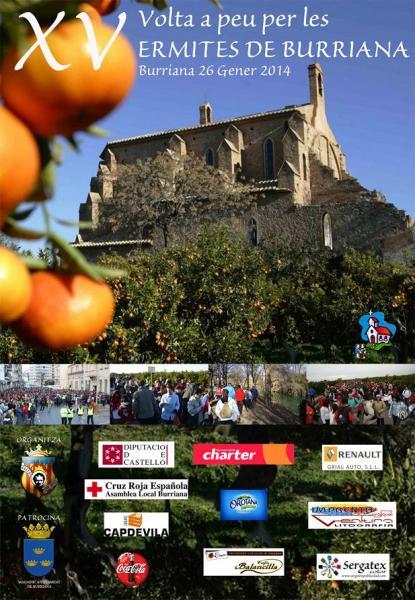 Description:
Programa de fiestas
Dates:

Starts: 26/01/2014
Ends: 26/01/2014
Reglamento
Inscripción:
- En el casal de la Falla Don Bosco, de 19.00 a 21.00 h.
- El plazo de inscripción finaliza el día 24 de enero de 2014.
- El número máximo de inscripciones será de 1.200 participantes. Incluye:
Avituallamiento sólidos y líquidos
Certificado de la prueba
Camiseta conmemorativa de la Volta
- Para la retirada de la credencial, donativo de 5 €, con derecho a obsequios de los colaboradores.
El día de la prueba no se admitirán inscripciones.
Almuerzo popular para los inscritos en la ermita de Santa Bárbara.
Concentración y salida:
Concentración a las 8.00 h en el casal de la Falla Don Bosco. Salida a las 8.30 h.
Observaciones:
Es necesario llevar recipiente para repostar líquidos.
Para poder obtener el certificado de la prueba es imprescindible realizar íntegramente el recorrido y entregar la credencial con todos los pasos de control sellados.
Hay que mantener escrupulosamente limpio el entorno, debiendo comer y beber en las zonas indicadas.
La organización no se responsabilizará de los daños que pudieran sufrir o causar los participantes.
El mal tiempo no será obstáculo para la celebración de la prueba, si bien la organización se reserva la posibilidad de suspenderla antes de su inicio.
Con motivo de las obras en la zona de Sant Gregori, el recorrido puede variar su ruta habitual.
This office does not assume responsibility for sudden changes or variations of the events published on this site.