Burriana – Día Mundial del Turismo DMT-2016 – "Sé turista en tu ciudad".
III Visita guiada Borriana nocturna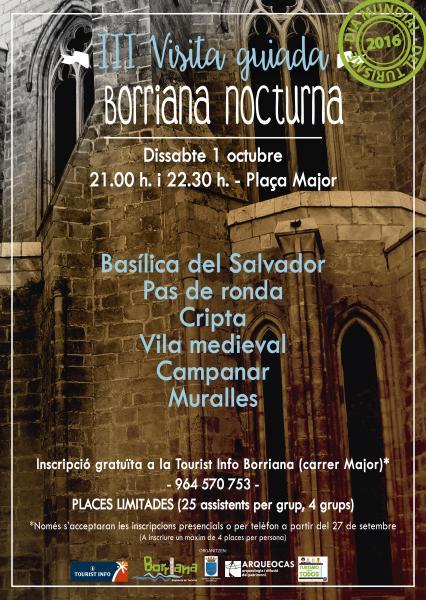 Description:
Actividades de ocio
Type: Rutas y excursiones
Dates:

Starts: 24/09/2016
Ends: 01/10/2016
Address:
Pl. Major, 1 (acceso C/ Major)
City: Burriana
Después de conquistar Borriana, el 16 de julio de 1233, el Rey Jaume I, ordenó la construcción de la iglesia del Salvador. Además de agradecer a Dios la victoria, El Conquistador, quería demostrar a todas las poblaciones musulmanas del alrededor que tomaba la localidad para quedársela, erigiendo en el corazón de La Plana una robusta iglesia de piedra.
El próximo día 1 de octubre, para celebrar el Día Mundial del Turismo, la Concejalía de Turismo organiza una visita nocturna centrada en la basílica del Salvador, nuestra torre campanario, El Templat y el trazado de la villa medieval.
La visita es gratuita y las plazas son limitadas.
- Plazas limitadas: habrá 4 grupos de 25 personas, por tanto, 100 plazas.
- Las visitas se realizarán en dos turnos: dos grupos a las 21 h y dos grupos a las 22.30 h.
- El lugar de encuentro para empezar la visita será en la Plaza Major, delante de la puerta principal del Ayuntamiento.
- Las inscripciones se podrán realizar a partir de las 10 h del martes 27 de septiembre hasta agotar las plazas.
- Una misma persona no podrá inscribir más de cuatro plazas.
- Las inscripciones se realizarán personalmente en la oficina de turismo y/o telefónicamente al 964 57 07 53 dentro del horario de atención de la Tourist Info. No se podrán inscribir vía mail o mensajes en contestador o Facebook.
Horario de inscripción:
De martes a sábado, de 10 a 14 h
De martes a viernes, de 17 a 19 h
Information compiled by:
TOURIST INFO BURRIANA (eng)
Plaza Mayor, 1
12530 Castellón
Phone: 964570753
Fax: 964510955
Email: burriana@touristinfo.net
This office does not assume responsibility for sudden changes or variations of the events published on this site.