La Tomatina or the need to throw tomatoes
Publishing date 4/08/2016
The success of La Tomatina in Buñol, one of the Spain's most international festivals, is based on the universality of its approach.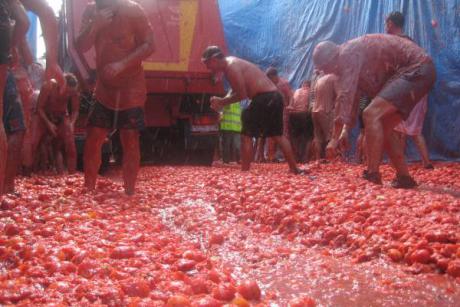 La Tomatina in Buñol is one of the Spain's most international festivals. In 2015, to commemorate the seventieth anniversary, Google dedicated the festival an illustration in his prime, one of their famous 'doodles' page. But why this international success of a party that consists of throwing tomatoes at close range? The main reason is simplicity and universality. The celebration recreates humorously a battle. All cultures have been at war at some point, all reminisce the significance of recreating a battle. During the hour-long launch all worries disappears, just throwing tomatoes, let off steam and play.
The celebration is held on the last Wednesday of August. Starts around 11.00 hours announced by fireworks, at the of a greasy pole that is to achieve a ham placed on top of a soaped stick to prevent rapid quest and unleash laughter. As it was said before: simplicity and universality. The launch of tomatoes concludes an hour after the start. La Tomatina takes place on the streets San Luis and Avenida Diputación de Buñol. The itinerary of the battle is the cross of several trucks loaded with tons of tomatoes distributed by volunteers.

Nobody could have envisioned the huge success that has garnered this celebration. If we go back to its origin no one could have ever imagined. It was the summer of 1945 and a group of young people enjoying the parade of giants and big heads that was part of the acts of the party held in honor of San Luis Beltran. Young people decide to put a dent in one of the processions, which made one of the participants to fall into the ground. The participant, angry, lashes out everything in its path. The fact ended in a mass brawl with tomato as the protagonist but the law enforcement broke up the battle.

Since then, every year their is a growing enthusiasm for La Tomatina and the number of participants. In 2015, the year of his seventieth anniversary, by more than 22,000 people of 96 different nationalities attended. Not bad for a town that does not reach 10,000 people. The success of the battle with most popular fruit in the world has led to the fact that La Tomatina of Buñol was declared in 2002 Festival of International Touristic Interest.