Moors and Christians in Bocairent, long live Sant Blai! Long live the festivities!
Publishing date 27/01/2014
Bocairent dresses up in its most elegant finery to celebrate its Moros y Cristianos (Moors and Christians) festivities in honour of its patron saint, Sant Blai. These celebrations, which are held from February 1 to 5, are an integral part of the town which sums up its life, history and customs. Over the course of five days, the beautiful streets of Bocairent are transfigured through music, gunpowder, parades, and, especially, joy. Long live the festivities! Long live Sant Blai!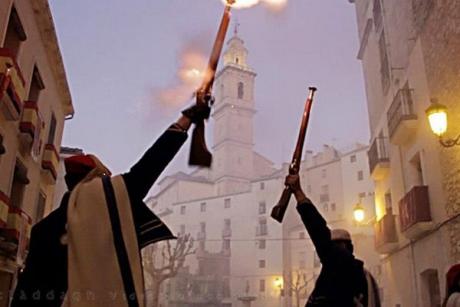 It all begins on the afternoon of February 1, when the music bands and representatives of the different troupes meet up for the parade that commemorates the proclamation of Sant Blai as the patron saint of the municipality, followed by a parade at night, in which the typical local blanket – the manta bocairentina – stars prominently.

The second day hosts the entrance of the Moors and the Christians, with the Christian parade held first, followed by the Moorish parade. The third day is the feast day of the patron saint, Sant Blai, with its religious procession, which ranks amongst the most touching ones, with its traditional Vito to the patron saint Sant Blai at the entrance of the Town Hall square that will touch the hearts of all.

The fourth day is the day of the embassies and battles between both sides, which includes the firing of muskets. The fifth day is dedicated to the Sant Crist, a hermitage on the top of the mountain, where participants and musicians go to celebrate the defeat of the Moors.