Moors and Christians in Pego, Agost and Benissa
Publishing date 18/06/2014
During the last week of June, the Moors and Christians festivities will be held throughout a number of towns in the province of Alicante, among which are Pego, Agost and Benissa, in one of the most visually attractive festivities in which the most peculiar aspects of popular character are represented, including a taste for farce, dressing up and fancy costumes, music and gunpowder.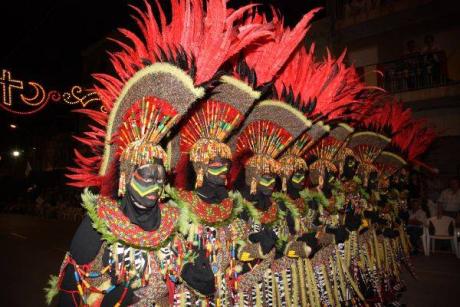 Spectacular parades with an important participation of splendid costumes and embassies paying homage to old battles, the struggle for luxury in costumes, the incessant marches with drums and chirimías (a sort of traditional oboe), as well as the abundance of gunpowder, are but a few of the events available for your enjoyment over the course of these days.
You souldn't miss some of the "companyies" or "filaes" that make up the Moors and Christians Festivities and which have their own headquarters. They usually are based in the ground floors of buildings in the city centre. The Christian companies usually decorate them to provide a Reconquista atmosphere. The Moorish ones will make you feel as if you are in a palace in Fez. You should also discover the traditional cuisine of these regions, based on seasonal products, and which is as delicious as it is unknown outside the area. Do not leave without having sampled a fine tapa with a beer on any terrace of these towns.
The Moors and Christians festivities in Pego, which have been declared festivities of provincial touristic interest, are held on the last weekend of June, in the context of the festivities in honour of the local patron saint. One characteristic that sets them apart from other towns is the children's parade, which is held on Friday afternoon, during which the same number of "filaes" go out into the streets, but made up by the youngest in the community. Over the course of four days, the town is full of parades, entrances, music, celebrations, dances, pageants, etc.
From June 27 to 30 the Moors and Christians festivities will be held in the town of Benissa, which a markedly Medieval nature which, combined with the beauty of its beaches, coves and landscapes, provide travellers with an ample choice to enjoy the peace of its landscapes or the frenzy of its celebrations throughout the day.
Finally, Agost will celebrate its festivities from June 26 to July 1 in honour of Saint Peter, with events such as the parade of companies, a mock war, a humorous embassy, the offering of flowers or fireworks displays, among others.