Benissa, between Moors and Christians
Publishing date 22/06/2015
Benissa recalls its medieval history during the last week of June, with the celebration of the Moors and Christians festival, when the music and the color of the costumes invade the town. A brand new excuse to go to Benissa to relax on its beaches and live intensely its local celebration.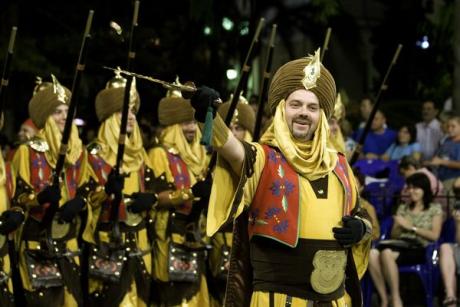 From June 26 to 29, the Moorsand Christians festival takes place inBenissa,featuring a medieval atmosphere. Coupled with the beauty of itsbeaches,covesandlandscapes, it allows the traveler to choose, depending on the time of day, between the peace of itslandscapes, the relax of its coves, and the bustle of its festivities.

The joy and fun invade every street in the town, with events such as the Grand Parade that will take place on Saturday, June 27. On Sunday, 28 the siege of the Moors will take place and on Sunday, 29 the "Reconquista" (Re-conquering) by the Christian forces of the town of Benissa will be performed.

TheMoors and Christians festivals have become one of the most widespread celebrations in the provinces of Alicante and Valencia, and offer greater visual appeal, bringing together the peculiar features of character from our people, such as a taste for farce, disguises or special clothing, together with music and gunpowder.

Come toBenissaand live intensely itsMoors and Christians festival.