These festive days scream as you've never done it in Benidorm
Publishing date 21/10/2015
In Benidorm, the nightmare of Halloween has already begun. Either in Mundomar, Terra Mítica or Terra Natura, fun is guaranteed ― the only problem will be choosing a place between the many options where terrific shows, thematic dinners, attractions and parades will be held. Everything's ready so you can enjoy Halloween in a unique and unforgettable way.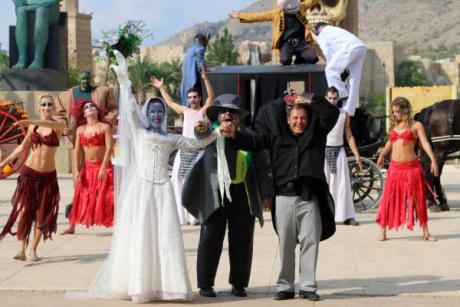 Terra Mítica Benidorm is getting ready to host the most terrific celebration of them all. Live walk-through horror attractions, exclusive shows, lots of entertainment with the creepiest characters, thematic dinner and many other unexpected surprises are only some of the ingredients for a night that we'll definitely not fall into oblivion.

Magic tricks, walk-through horror attractions, make-up workshops, scavenger hunt and live entertainment through the streets will welcome those visitors who come by Terra Natura Benidorm, a park full of nature and animals. The organizers have prepared a complete activity program for families so everyone can enjoy Halloween in a unique and unforgettable way.

Finally, Mundomar will become a terribly funny amusement park, where witches, enchanted pumpkins, skeletons and ghosts will be a common visitor during these days in the park of exotic and sea animals of Benidorm.

If you'd like to wander around between sinister monsters as mummies, zombies and an endless number of other terrifying characters, the complex has been prepared according to Halloween and you'll only have to choose when and who do you want to enjoy it with.