Pride in Big Type in the Benidorm Pride, Benidorm
Publishing date 1/09/2017
The Region of Valencia is a destination really, really friendly and where entertainment is never left out. After the celebration of the Fiesta del Orgullo in June, the event of the community LGBT arrives to Benidorm. A golden closing event to the calendar of The Pride!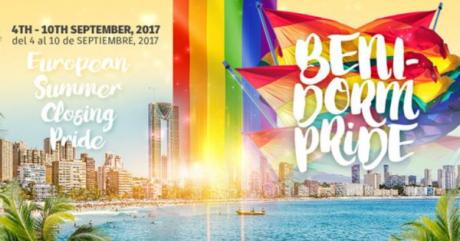 Benidorm Pride 2017 is already here. The most important event of the community LGBT of the year, with his terrific and colourful parade on 9th September, will gather thousands of people who will shout and celebrate that love is love. As each year, there are a huge number of events programmed from 5th to 10th September. Benidorm Pride is considered the seventh big gay escape but they aim at becoming the biggest Wow Factor Event in the Costa Blanca in the 2017, will you help them to get it?

Let's speak of the Big Parade. On Saturday 9th September, from 17.00 hours, it will visit the beach of Levante filling the streets with colour, music and emotion. The end of the route will be the stage of the Auditorium Julio Iglesias, prepared for the occasion and with free entry. Besides, there will also be free access and entry to the thematic parties in the open air in the Mirador de Castillo.
In Benidorm, they expect 15 000 visitors who will find a city which never sleeps in real terms and where it is always summer. The main attraction for the attendants to the Benidorm Pride is the ancient city, where "the heart" of the gay community is. Nearly 30 bars and restaurants really gay friendly but at the same time small and intimate places, only a jump away one from the other. And when the sun is well up, everybody has to go to enjoy the beaches of golden sand in Benidorm!