In November, Benidorm dresses up
Publishing date 28/10/2015
From the last Saturday of the month of November until the following Wednesday, you have to live the five days of intense party activity which Benidorm offers. Clubs, open for everybody, have the leading role in the Humor Parade; and les copletes, the nit d'albaes, mascletaes and offerings of flowers put music and colour to the most funny festivals which you can imagine.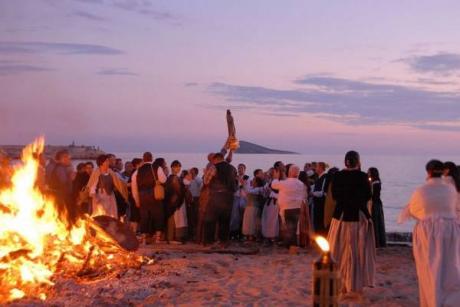 The Benidorm festivals date back to March 1740 when a ship dragged by a violent storm appeared on its shores. After burning it to avoid epidemics, some young boys found the image of the Virgin among the rubble and took it to the church of San Jaime and Santa Ana, the most ancient in Benidorm which dates from the 18th century where, later it was restored and a chapel was built. This story is staged every year on the Poniente Beach on Saturday at about five o'clock in the afternoon.

Benidorm keeps the Valencian tradition through the most remarkable events of its festivals, the staging of the discovery of the Virgin, the offering of flowers, the humor parade, the carriage parade and the huge firework display which happens on Wednesday, last day of the festival. These autumn festivals have served with the passing of years as a tourist appeal and turn the month of November into a parenthesis before winter, a month in which it is still almost high tourist season.

Do not wait another year, come to Benidorm on these November days and take part of the most open, funniest and most colorist festivals which you can imagine.