The never ending summer in Benidorm
Publishing date 17/10/2017
Benidorm is one of those places for any type of public where one can enjoy a break all year long. Children and adults will enjoy any of the activities and attractions this city offers.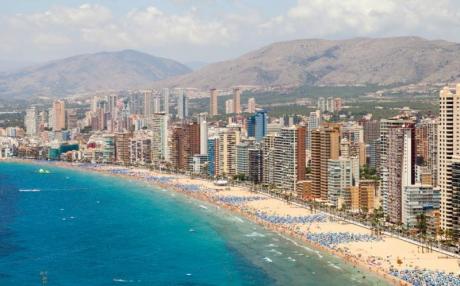 And it is not only a place for summer holidays, but all year long Benidorm is full of tourists who come looking for nice weather and long beaches to spend some days with family or friends. Now we will unveil some places to enjoy sightseeing in Benidorm, the city where summer lasts all year round. Do not miss it!
Visit the golden beaches and the maritime walk. There is nothing better than wandering around the beaches of Benidorm. The beach of Levante is the most crowded, but if you look for better relax; do not miss that one in Poniente. It is really worth visiting the maritime walk to end by taking an horchata or an ice cream.
Discover the Castle of Benidorm. You must visit the viewpoint of the castle at dusk. You will fall in love with the views! Besides, you can stroll by the old town centre and discover the churches of Saint Jaime and Santa Ana.
Walk along the streets of the town in search of the best shopping. You cannot miss the mercadillos (flea markets) in Benidorm, there will suit all tastes. On Wednesdays and Sundays, you can visit the mercadillo in Benidorm village, in the street L'Admirall Bernat de Sarrià. If you prefer to buy antiquities, be sure to visit the mercadillo of el Cisne at weekends.
Sail to the island of Benidorm. Definitely, the island of Benidorm is one of the icons of the town. It can be seen from any point of the beach and everybody wonders what is hidden in this small island. You can do an excursion and spend some hours there, visiting the little island and sharing time with the peacocks and the renowned prickly pears fruits.
Dance until dawn. Benidorm is known for being a town with a lively ambiance, where you can enjoy the best leisure at night both in the zone of the beach with venues on the beachfront, as well as in town with big discotheques. For music lovers, Benidorm hosts some of the most famous shows with live music and also musical festivals.