Halloween, trick or treat at Terra Mítica
Publishing date 21/10/2013
Trick or treat? No tricks involved - visitors to this Benidorm theme park will be having a frightfully good time up to 3 November to mark the spookiest festival of Halloween. At this time of year, Terra Mítica is a terrifying and sinister place, crawling with skeletons, cursed pumpkins, witches, ghosts, zombies and pirates from beyond the grave. Come to Terra Mítica, you'll die laughing.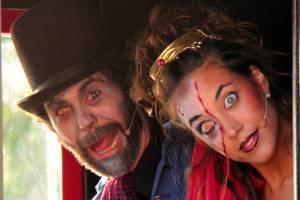 Terra Mítica has turned into a spooky and mysterious place. It's perfectly normal to see the Black Carriage carrying the fearsome
Marquesa de Ayquesusten
, as she searches tirelessly for her soon-to-be late husband. You're sure to come across Pumpkin car or the grave diggers, scarily strange characters who'll get visitors involved in all sorts of terrifying adventures. The craziness inside the pyramid of Cheops becomes even more disturbing at Halloween. The strange characters that dwell in this ancient building are ready and waiting to spread panic, provoke spine-chilling screams and scare the living daylights out of the intrepid visitors who dare to venture inside and discover its secrets. Only the very bravest will survive the misfortunes awaiting them in the depths of the pyramid.
Outside, in the great square of Egypt, a show will "see the light" at sunset - it's the
Court of Hell
. A unique show about the adventure of the Professor and young Tom, who accidentally invoke the Evil One and his entire court. They will have to face up to each and every one of them and send them back to the underworld. The 5D cinema, one of Terra Mítica's newest attractions, gives visitors the chance to experience adventures and sensations just as if they were real, and all without leaving the cinema. Synchronised movement, textures, smells, cold, heat, moisture and perspective are the features that have made 5D cinema the star turn at Terra Mítica all through 2013. Especially for Halloween, the cinema will be showing a hair-raising double bill, with
La tumba (The Tomb)
and
El bosque encantado (The Enchanted Forest).