Halloween, terrifyingly fun at the Terra Mítica theme park
Publishing date 27/10/2014
For a limited period, Terra Mítica theme park will turn into a revelling scene of giant pumpkins, skeletons, witches, vampires and beings of the afterlife to celebrate Halloween. Get down to Terra Mítica between now and November 2nd and see what fun you can have while getting a fright…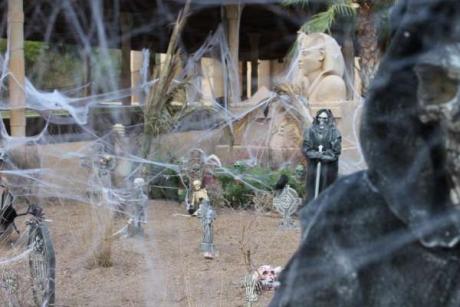 Terra Mítica will be transformed into a terrifying location where mummies, zombies, The Blood Countess, The Gravediggers, The Corpse Bride and Groom and an endless stream of dark characters wander freely. The corners of the theme park will become cemeteries, enchanted woods and spider webs. The Great Pyramid of Keops will be scarier than ever and the boat that sails across the lake of Egypt will be steered by Charon, a character from the underworld in Greek mythology.
There will also be special edition Halloween shows, including The Witches´ Sabbath, Tales from the Crypt, Amunet and The Requiem, and all Halloween characters will take part in a grand parade accompanied by sinister carts and carriages.
What´s more, Terra Mítica will be opening even later until 9pm throughout the Halloween period, and until midnight on the Feast of Halloween (October 31st) for a full day of frightful fun.
Don´t miss the chance to see Terra Mítica shapeshift into a frightfully fantastic site filled with countless sinister beings…Celebrate Halloween at Terra Mítica and have the fright of your life!