"Figatell route", tradition and avant-garde in the Mediterranean
Publishing date 24/09/2015
The "figatell", a genuine historical tradition and a Mediterranean culinary creation from the regions of la Safor and la Marina, shows a strong comeback in the Valencian haute cuisine to take the place it deserves. A route organized by the Valencian Institut of Tourism Technologies runs through the towns of Oliva, Pego and Beneixama, showing the greatness of a modest product with a brilliant design. Come and enjoy a good meal in the provinces of Valencia and Alicante!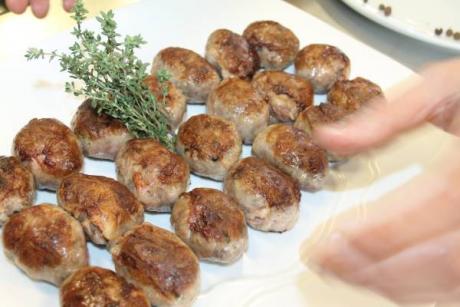 The figatell is the gastronomic link of three villages: Benixama, Pego and Oliva, two towns in Alicante and one in Valencia. In any of its three versions, the figatell is able to satisfy the most demanding palates. As a main course, as a tapa or as a canapé, the figatell is gaining adherents. If you taste it, you will ask for it again. There must be a good reason for it!

And to publicize the figatell, the Valencia Institute of Tourism Technologies (Invat.tur) celebrates a conference, on September 30, dedicated exclusively to this traditional product of the Valencian cuisine: its peculiarities and forms of processing. At the end of the conference, they also present the contest of the Figatell Route .

The figatell is a fresh handmade sausage made with lean meat and pork liver, pine nuts and spices, wrapped with "randa" or "teleta" (cloth). Its aroma is unmistakable when cooked on a griddle or skillet, but the splendor is complete when it is grilled.

While the figatell is an ancient culinary tradition in Beneixama, Pego and Oliva, delicious variations exist in other municipalities of the Valencia Region and even overseas, as in the distant Cyprus, where it is an emblematic dish of its cuisine, known as sheftalia.

A tour through the three villages Pego, Oliva and Beneixama, birthplace of the figatell shows its history, beautiful natural landscapes and exceptional gastronomy. Follow the figatell route, an let yourselve be amazed...