Dive into the water, Aqualandia Benidorm is beginning its new season!
Publishing date 1/06/2014
Now is the time to have fun, the time in which the biggest water park in Europe, Aqualandia, opens its doors and begins no less than its thirtieth season. Indeed, Aqualandia Benidorm is a big park with attractions to suit all tastes: for daredevils, brave people, calm people, senior citizens and kids... come to Aqualandia and enjoy water without limits.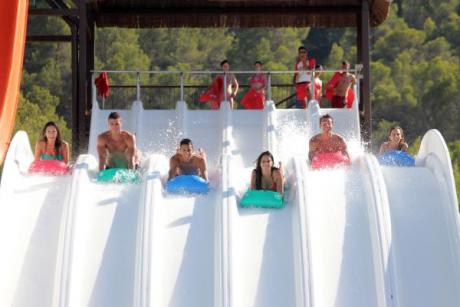 Your sumer begins in Benidorm, as Aqualandia opens its gates. It has just done so, as punctually as ever over its thirty years of operation. And, of course, it includes a new feature: VERTI-GO, a new attraction with a futuristic style. VERTI-GO is the name of an ensemble made up by two slides that are 28 and 33 metres tall, respectively. The 33-metre slide is the tallest in Europe, and the tallest capsule slide in the world.
A space cupola crowns VERTI-GO, as if it were an aerial shuttle. The spectacular lighting reinforces the feeling of vertigo on the ride and honours its name. Furthermore, the inside of the VERTI-GO capsules contain cameras that allow you to see the gestures and expressions of visitors as they slide down the tallest capsule slides in the world on large screens at the foot of the pool.
After 29 years - 30 seasons - Aqualandia is characterized by being the largest water park in Europe, with the largest number of adrenaline and vertigo-powered rides. These include Big Bang, with a series of slides with different intensities meant for lovers of strong emotions: Black Hole, Soft Trails, Rapids, Wave Pools, Zig-Zag or Splash, among many others. Over twenty attractions for all audiences.
Come to Aqualand to experience it for yourself! We are sure that you will find the perfect tride.