Dive into the sea at Benidorm!
Publishing date 25/06/2013
The 1st City of Benidorm International Underwater Marathon is being held on Saturday 29 June. It's not really a competition though, it's more like a great day out for divers in a beautiful setting near the yacht club, in the little cove of Mal Pas. Come to Benidorm and dive in spectacularly clear seas!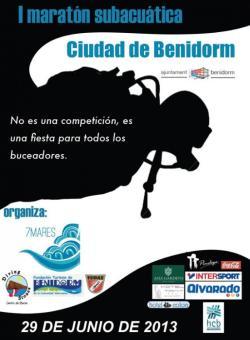 Participants will be diving in pairs and will be joined together by a 3-metre long elastic cord. Another 5-metre cable attached to the middle of the elastic cord will be connected to a buoy on the surface, making this the maximum depth the underwater swimmers can dive to.
They will have to navigate and swim their way around an L-shaped 700 metre circuit before turning round a marker buoy and making their way back. The total distance of 1400 metres will be marked out on the sea bed and on the surface with yellow buoys.
All divers will leave at the same time and the route will be supervised by 6 judges in kayaks, who will make sure everyone follows the rules.
More information