Benidorm, a festive and entertaining autumn
Publishing date 4/11/2013
Benidorm is holding its annual festival over the second weekend in November. Festival groups are open to everyone and parades, coplas (verses), albaes (traditional songs), music and fireworks will be livening this already naturally lively city. Come and be part of this party of parties that brightens up autumn in Benidorm every year.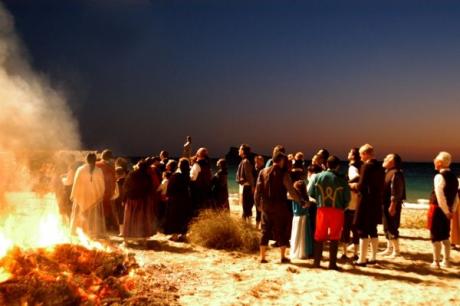 The festival association groups are in charge of events in honour of the city's patron saints, Virgen del Sufragio and San Jaime. The re-enactment of the Hallazgo de la Virgen (discovery of the Virgin) on the beach and the Ofrenda de Flores (flower offering) both add an emotional touch to the festivities, while the Cabalgata del Humor (comedy parade) brings fun and laughter to the streets and festival groups party on into the night from their various headquarters.
The groups are the ones who take part in the comedy parade, which has earned itself a reputation over the years as an outlet for political irony and sarcasm plus some very original fancy dress costumes. Dozens of bands march incessantly through the streets and a series of firework displays culminates in a great final display that brings five days of partying to an end.