Rototom Sunsplash Benicàssim, much more that a festival
Publishing date 25/07/2017
1991. Many years have gone by! Hundreds of concerts and actions in favour of cultural and social commitment, demonstrations for Peace and a challenge became true: we have created the biggest reggae festival in the world, the Rototom Sunsplash!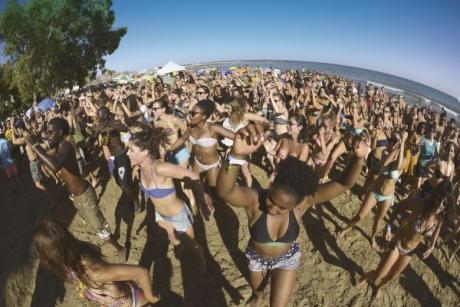 The Rototom Sunsplash of Benicàssim will celebrate his 24th edition from 12th to 19th August under the lemma Celebrating Africa and it has turned into the first festival the Region of Valencia getting a family certificate. This step consolidates this macro musical event like a holiday destination and his bet on the children and family audience, to whom more than half of his 14 non-music areas are allocated, some with exclusive programming, like Magicomundo and Rototom Circus. Youngsters under 13 years will have access to the compound and enjoy free entry and ID bangle.

The camping site has an area reserved exclusively for families, in a peaceful spot and with sun-shades, which besides this year will have the addition of park for games and rest. Inside the camping, a closed space with baby changing stations will be enabled.

Besides, Rototom Sunsplash will receive next 12th August the world-wide première of the documentary Wake up! What would do you to change the world?,directed by the winner of a Goya Ángel Loza. Filmed entirely in the year 2011 edition of the festival, the film comes six years after its filming to the stage where it was born. The documentary will get to all the corners in the world via streaming, six channels will be enabled and Foundation ONCE (for the visual impaired) will provide the version in Spanish and English so that people with visual and auditory disability can enjoy of the session.
This August, enjoy in Benicàssim seven kilometres of wide beaches and of calm waters, with fine sand or with white stones. But Benicàssim also means mountain. Next to its coast, you can find the park of the Desert of the Palms, a perfect natural jewel to unplug from the daily noise and enjoy some unique sights by the Mediterranean.