Let's go back to the Belle Époque in Benicàssim
Publishing date 1/09/2017
Any month of September in the 20's. The summer has not finished and in Benicàssim they resist to stop going out in the street to enjoy the good weather. Between 8th and 10th September things change, the Belle Époque will invade everything. King Alfonso XIII and his wife, Queen Victoria Eugenia, used to choose Benicàssim to enjoy the seaside. Benicàssim evoques it and lives it again with a great number of activities themed in the Belle Époque, from 8th to 10th September in Paseo Pilar Coloma. A plan both original and advisable.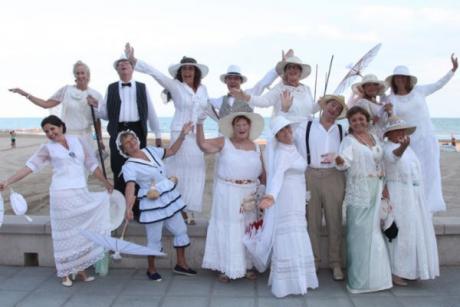 Benicàssim Belle Époque turns into "The Biarritz of Levante" from the final years of the 19th century and the beginning of the 20th, with a historical recreation and different activities. Get back to those days, experience that ambiance, and feel that you travel back in time. Heat begins to give us a little rest announcing the nuances of autumn and the sun, more benevolent, invites us to share experiences in the open air, listen to music, go shopping or simply become the main character of a golden age in the best possible place. The surroundings of Las Villas, main centre of the social activity in Benicàssim, fills with activity, attraction, of light-heartedness, of this optimism which can only be breathed in a natural way by the Mediterranean seaside.

Some of the activities of Belle Époque are the modernist market and market of antiquities, hairdressing from the époque, ancient bicycles concentration, verbenas, carriages exhibition, contests of photographs, painting and dressing and the visit of their Majesties King Alfonso XIII and Queen Victoria Eugenia. Can you image it?
Besides, in Benicàssim there are beaches of fine sand with a soft slope, and crystal clear waters. You can also visit Parque Natural del Desert de Les Palmes as a final destination from a great number of places worth visit. You can also enjoy culture and leisure, rest and activity. It is up to you to choose.