Benicàssim, Tower in sight!
Publishing date 16/03/2016
More than forty daily activities, shows and workshops, will be held in Benicàssim on the 25th, 26th and 27th of March. If you want to enjoy with your family a great touristic destination as Benicàssim, do not miss "Benicàssim, Tower in sight!" an event which aims to focus on one of the most iconic landmarks of the city, such as the 'Torre de Sant Vicent', that has been acknowledged as an item of cultural interest.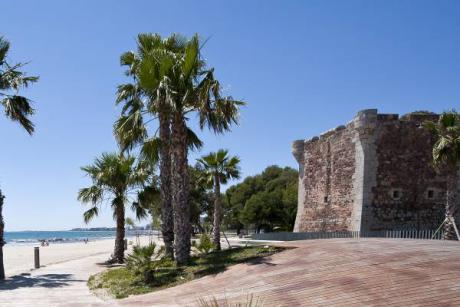 'Torre Sant Vicent' is one of the eighteen watchtowers the region had in the past; today known as the province of Castellon. Its functions were surveillance and defense against pirate raids that ravaged the coast during the 16th century. Indeed, the so called 'Olla de Benicàssim' was a sheltered place for anchoring boats and was one of the favorite places of the Berber people.

In this context, we should frame the "Benicàssim, Tower in sight!" an activity designed for the whole family and which aims to become a reference for historical recreation of cultural area and the heritage of ​​the municipality of Benicàssim. Beginning in a small town and going through a surveillance camp, will be just some of the scenarios that make up the old seafaring core, which in the past, reached up until the tower. In addition, the amphitheater 'Pepe Falomir Almela' is the perfect place to be aware of the presence of any boat, enjoy the piracy or watch a swordfight between the Berbers and the villagers.

But above all, the "Benicàssim, Tower in sight!" is an ideal opportunity to bring the story to the children. Puppet shows, legends of the sea or treasure hunts are some of the activities that will attempt to show the historical value and heritage of the 'Torre Sant Vicent'. In addition, guided tours, cultural and popular mountain biking will be made about how the watchtowers operate. Even the most daring will have the chance to make a crossing swim, uncompetitive, from 'Playa Voramar' to 'Playa Torre Sant Vicent'. All of this will be included in a "map of activities" with indications of the different shows that will take place in this emblematic natural landscape.