20º Rototom Sunsplash, reggae en el Mediterráneo
Publishing date 12/08/2013
Rototom Sunsplash is being held from 17 to 24 August in Benicàssim, a love affair that's already in its 20th year. A love story about Jamaican music and culture that had a modest start in 1994 in Italy. Since then, hard work and collective passion has made the event into Europe's biggest reggae festival and one of the largest in the world.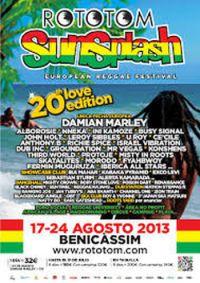 Under the slogan of Love Edition, the programme for the 20th anniversary event of Rototom Sunsplash, hosted by Benicàssim from 17 to 24 August, is an exhilarating musical mix of the best Jamaican music and folk music, plus the liveliest dance and party music with some spirited, uplifting beats. The programme, starring artists like Damian Marley, will delight audiences with today's top reggae sounds.
In addition to the usual stages - Main Stage, Dancehall, Dub Station and Ska Club, this year's event introduces the Showcase Club, giving centre stage to the next generation; Roots Yard, featuring the most genuine reggae sounds; African Disco, for going back to basics; and Black Temple, highlighting black music, soul and rhythm 'n blues.
Music is the main attraction of the event, but Rototom Sunsplash 2013 is a unique, all-round event offering something for everyone: talks and discussions at the Reggae University and the Social Forum, workshops and classes on the beach, cultural activities in the African Village, No Profit Area, relaxation and meditation in Vivir la Energía (Live the Energy), Art Symposium, Rototomcircus, an excellent display of international gastronomy, open-air market and Magicomundo, especially for the kids.
More information:
http://www.rototomsunsplash.com/es/