Teatro: Blick Théâtre "[Hullu]"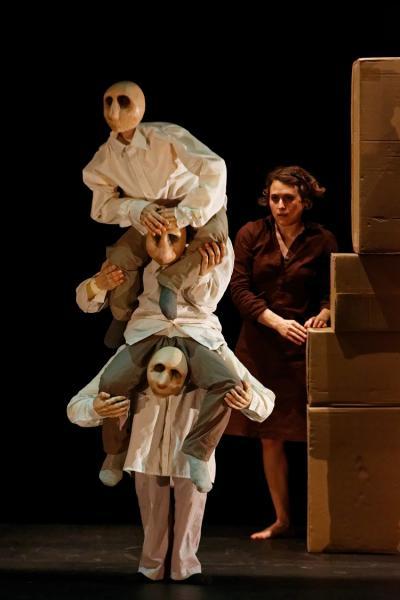 Description:
Actividades culturales
Dates:

Starts: 08/11/2015
Ends: 08/11/2015
Impresionaron al público con su anterior trabajo "Court-Miracles"
Ficha artística: Autores: Loïc Apard, Johanna Ehlert, Sébastien Guérive, Dominique Habouzit, Thomas Maréchal & Matthieu Siefridt; Intérpretes: Loïc Apard, Johanna Ehlert & Matthieu Siefridt
Argumento: Blick Théâtre crea un teatro de farsa, sin palabras, una mezcla de seres humanos y marionetas.
Sentados en tres taburetes, en medio de ninguna parte, ellos se ocupan de ella, ella no les entiende. Sintiéndose sobrepasada por el mundo exterior, se refugia en su cabeza, en un caprichoso rincón poblado de seres extraños.
Dividida, oscila entre estos dos mundos sin saber cómo hacerlos coexistir. Entre la tentación de huir y la obligación de quedarse, el camino se estrecha. Sus dos acólitos buscan la manera de acceder a su mundo imaginario.
Sentimientos de solidaridad y ruptura surgen entre estos personajes atrapados contra la pared.
Resultado de una investigación sobre los trastornos mentales en general y el autismo en particular, [hullu] es una invitación a salir de lo habitual para experimentar la relación con los demás desde una perspectiva peculiar, diferente a la humana.
Compañía: Loïc Apard y Johanna Ehlert trabajan juntos desde 1999, especialmente desde La Monstrueuse Parade de la Compañía Remise à 9. Matthieu Siefridt se une a ellos en 2005 para la creación colectiva del espectáculo Court-Miracles. Los tres participan, como coautores de esta creación colectiva con Lucie Boulay y Christian
Coumin. En conjunto, montaron Le Boustrophédon en 2006. Después de más de 500 representaciones en Francia, Europa y en el extranjero, Court-Miracles continúa gira hoy en día. A raíz de esta colaboración, Johanna Ehlert, Matthieu Siefirdt y Loïc Apard siguen con su enfoque artístico con [hullu] y luego fundan Blick Théâtre. Dominique Habouzit, sustituto de Loïc en Court-Miracles, entra en la compañía como coautor.
Sus anteriores trabajos tratan sobre la monstruosidad, la mirada del otro, las diferencias del comportamiento humano en situaciones extremas como la guerra, posando en el ser humano una mirada tierna y sin prejuicios.
Lugar: Teatro Municipal de Benicàssim
Precio: 3,00 €
Apta para todos los públicos
Horarios:
08/11/2015 - 19:00 h.
Information compiled by:
TOURIST INFO BENICÀSSIM
Calle Santo Tomás, 76 - bajo (Casa Abadía),
12560 Castellón
Phone: 964300102
Fax: 964300139
Email: benicasim@touristinfo.net
This office does not assume responsibility for sudden changes or variations of the events published on this site.