Raimundo Amador. Gypsy Flamenco Blues. Tour Homenaje 2016 a B.B. King.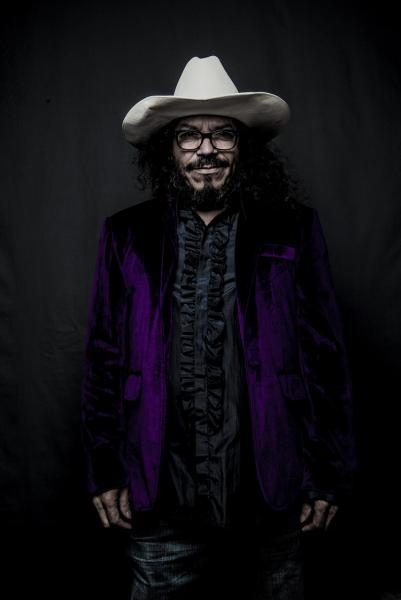 Description:
Actividades culturales
Dates:

Starts: 26/08/2016
Ends: 26/08/2016
RAIMUNDO AMADOR FERNÁNDEZ, guitarrista y cantante gitano, más conocido en el mundo artístico de la guitarra por el nombre propio de RAIMUNDO AMADOR, nació en Sevilla en el año de 1960, le enseño a tocar la guitarra su padre con tan solo 12 años.
Raimundo se recorría las calles de Sevilla tocando la guitarra a cambio de un bocadillo o de unos durillos para coger el taxi que le llevaría de vuelta a casa. En el tablao de "Los Gitanillos" conoció a Camarón y a Paco de Lucia, con quienes años después colaboraría en la famosa grabación "La Leyenda del Tiempo". A mediados de los 70, conocería a Kiko Veneno, pero no sería hasta 1977 cuando empezaran a grabar como "Veneno",
Veneno influyeron decisivamente en los nuevos rumbos de la siguiente generación de músicos andaluces y en su corta trayectoria anticiparon tendencias de las que otros pudieron sacar mucho más provecho comercial. Después de la disolución de "Veneno", inaugura nuevo grupo: "Arrajatabla". En 1981, Raimundo se alía con su hermano Rafael y juntos empiezan a darle vida a la fusión Flamenco-Blues, se harán llamar "Pata Negra" y de nuevo Raimundo forma parte de uno de los referentes ineludibles de la música en España. Después de innumerables colaboraciones y tras la disolución de Pata Negra, (su último concierto se graba en disco en el 89), Raimundo Amador decide iniciar su carrera en solitario. Lo hace en 1995, lanzando su primer disco: "Gerundina", en el que contó con la colaboración de Andrés Calamaro ó B.B. King entre otros. Sólo dos años más tarde ve la luz su segundo disco: "En la esquina de las Vegas", trabajo que vino a afianzar un público propio para un Raimundo centrado en la guitarra eléctrica. Y en Octubre de 1988 graba en directo, cuenta con colaboradores de lujo, Remedios Amaya, Kiko Veneno, Charo Manzano, B.B.King y Juan Perro.
En este concierto, Raimundo Amador se sumerge por completo en dos estilos muy distintos con un denominador común: su expresión, su lamento y su vida. Raimundo quiere rendir homenaje al gran amigo guitarrista y bluesman B.B.King, con el que compartiera escenario en varias ocasiones.
Dentro del flamenco, Raimundo Amador es uno de los máximos estandartes actuales. Su virtuosismo, sentido del ritmo y del compás hacen que sea considerado uno de los mejores guitarristas a nivel mundial.
Considerado uno de los grandes maestros de las seis cuerdas en este país, Raimundo siempre ha sido un gran admirador del estadounidense, llegando a tocar con él en algunas ocasiones. Sera una noche ideal para recordar el sonido de la mítica"Lucille" de B.B. King, que sin duda honrará Amador.
Lugar: Teatro Municipal de Benicàssim
Precio: 18,00 €
No recomendada para menores de 16 años
Horarios:
26/08/2016 - 22:30 h.
Information compiled by:
TOURIST INFO BENICÀSSIM
Calle Santo Tomás, 76 - bajo (Casa Abadía),
12560 Castellón
Phone: 964300102
Fax: 964300139
Email: benicasim@touristinfo.net
This office does not assume responsibility for sudden changes or variations of the events published on this site.