Música: Sergi Vicente y Ala Voronkova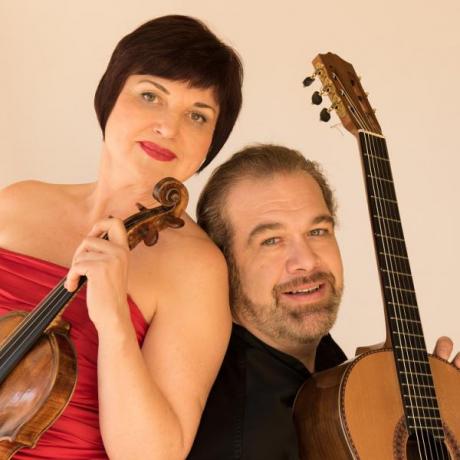 Description:
Actividades culturales
Dates:

Starts: 12/08/2016
Ends: 12/08/2016
Sergi Vicente y Ala Voronkova se han unido para ofrecernos una importante novedad discográfica. Aires Gitanos es un documento sonoro de gran interés a nivel mundial y una muestra de virtuosismo y creatividad.
Las obras de Monasterio, y sobre todo, Sarasate y Falla, son un gran reto para todos los violinistas y están consagradas dentro del más virtuoso y selecto repertorio de este instrumento. En este disco podremos escuchar la impecable interpretación de Ala Voronkova, que habiendo registrado ya los 24 Caprichos de Paganini y obras de Tchaikovski, Montsalvatge y Wieniawski, entre otros, pone todo su talento, sus manos y su violín a disposición de estas composiciones excepcionales.
Aunque existen numerosas grabaciones de estas obras, éstas siempre han sido interpretadas en su composición original: violín y piano. En este disco podremos disfrutar de una novedad única, un valor especial: Sergi Vicente ha combinado su labor como intérprete con un trabajo de años de transcripción y adaptación de estos compositores a la guitarra . Respetando la partitura, pero añadiendo y explorando los recursos propios de la guitarra, ha logrado una nueva lectura de estas piezas, creando una sonoridad nueva y sorprendente que, a su vez, consigue evocar los orígenes de este estilo.
Además/ También cabe destacar otro valor añadido: el disco se ha grabado con los violines Antonio Stradivarius Tartini-Vogelweith 1711 y un Gio Paolo Maggini 1600, y las guitarras Antonio Torres La Cumbre 1858 y Casimiro González 2015; máximos referentes históricos de ambos instrumentos.

Ala Voronkova. Nacida en Kiev, fue una destacada violinista en la Orquesta del Teatro Bolshoi y la Filarmónica de Moscú. Una vez establecida en Barcelona, ha trabajado como solista y concertino asociado de la Orquestra Sinfónica de Barcelona i Nacional de Catalunya y como concertino invitada de la Orquestra Sinfónica del Gran Teatre del Liceu. Ha realizado actuaciones por todo el mundo, tanto de música de cámara sinfónica y como solista.
Reconocida como una eminencia en el repertorio ruso, sus intereses musicales la han llevado a experimentar en otras estéticas interpretando y grabando, por ejemplo, la obra completa para violín de Xavier Montsalvatge, la integral de sonatas para violín y piano de Pavel Juon, así como los 24 caprichos de Paganini. En su amplio catálogo de grabaciones comerciales destaca el dedicado a los cuartetos de cuerda de Eduard Toldrà, Premio Ciutat de Barcelona.
Ala Voronkova ha estrenado obras escritas para ella de varios compositores contemporáneos, tales como Tomás Marco, Xavier Benguerel, Moisés Bertrán y García Morante.
Sergi Vicente. En su formación ha contado con prestigiosos maestros como D. Russell, J. Tomás, J.L. Rodrigo, L. Brouwer, A. Pierri y Pepe Romero, entre otros. También ha profundizado en estudios de dirección e interpretación en diferentes estilos y especialidades musicales.Fundador y Director de la Orquesta de Guitarras de Barcelona, actualmente desarrolla una extensa labor pedagógica como profesor del Conservatorio Superior de Música del Liceu impartiendo habitualmente cursos y "master classes".
Realiza una intensa actividad como concertista, en recitales de guitarra sola, como solista con orquestas y en recitales de música de cámara. Su discografía incluye cinco discos que han tenido una gran acogida comercial.
Algunos compositores le han dedicado especialmente sus obras y regularmente forma parte en jurados de certámenes y concursos internacionales.
Ha efectuado numerosos conciertos y grabaciones para radio y televisión en toda España y en otros países de Europa, América y Asia.
PROGRAMA
PABLO DE SARASATE (1844-1908)
Aires Gitanos, Op. 20
Romanza Andaluza, Op. 22, nº 1
Playera" , Op. 23, nº 1
Zapateado", Op. 23, nº 2
Introducción y Tarantella, Op. 43
JESUS DE MONASTERIO (1836-1903)
Adiós, a la Alhambra
MANUEL DE FALLA (1876-1946)
Escena y Canción del Fuego Fatuo (de El Amor Brujo)
Suite Popular Española
El paño moruno
Asturiana
Canción
Jota
Nana
Polo
Danza (de La Vida Breve)
*arreglos para violín y guitarra: SERGI VICENTE
Lugar: Espai de la Música Mestre Vila
Precio: Gratuito
Apta para todos los públicos
Horarios:
12/08/2016 - 20:00 h.
Information compiled by:
TOURIST INFO BENICÀSSIM
Calle Santo Tomás, 76 - bajo (Casa Abadía),
12560 Castellón
Phone: 964300102
Fax: 964300139
Email: benicasim@touristinfo.net
This office does not assume responsibility for sudden changes or variations of the events published on this site.