Música: Martina Vs. Júnior Mackenzie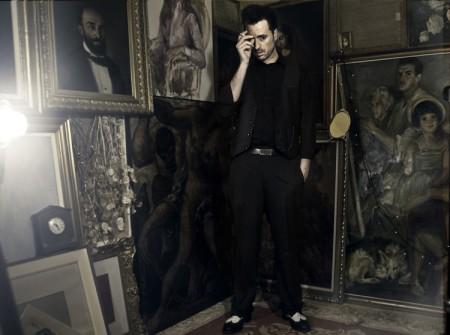 Description:
Actividades culturales
Dates:

Starts: 28/06/2015
Ends: 28/06/2015
Es bastante común que un mismo músico, cantante o instrumentista interaccione con otros de su misma especie en diferentes proyectos musicales tengan estos el carácter que sea. Lo que está bastante fuera de la norma, es que un único compositor en una misma velada sea capaz de desdoblar su personalidad como si de un Dr. Jekyll y Mr. Hyde musical se tratase, siendo capaz de defender dos propuestas totalmente distintas sin perder su identidad y esencia.
Es Juan Fortea quien esconde su "yo real" en propuestas como Martina y Junior Mackenzie.
Martina ahonda en lo más profundo de la naturaleza humana ofreciendo un discurso que intenta desgranar temáticas clásicas como el desamor, la soledad o las relaciones humanas difíciles e imposibles. Letras sinceras y honestas, que sin caer en el pesimísmo, consiguen exprimir luz de los recobecos más oscuros. Melodías en castellano limítrofes entre un terreno pop y la canción de autor instrumentadas y arregladas con la dedicación y el cariño que un artesano plasma en su obra.
Presentará en esta ocasión "Cuentos de Aventuras Desafortunadas", un disco concebido como una trilogía la cual cuenta hasta la fecha con las dos primeras entregas; Volumen 01 y Volumen 02: Esto Es La Guerra.
Una larga de ilustres músicos han pasado por diferentes estudios para dar forma a este proyecto; Charlie Bautista (Jero Romero, Christina Rosenvinge, Russian Red), Ivan Gonzalez (Amaral, M-Clan), Alfonso Ferrer (Jero Romero, Jacobo Serra, Aurora & The Betrayers), Octavio Vinck (Amaral), Amable Rodríguez (Jero Romero, Virginia Labuat) y Nacho García (Cooper, Jero Romero, Anni B Sweet).
Por contra podríamos considerar Junior Mackenzie como el alter ego más turbio, burdo, prepotente e inconsciente de Juan Fortea, algo así como un personaje de un obra de Bukowski si lo comparásemos con literatura.
En la trayectoria musical de este songwriter/guitarrista cabe destacar su participación como músico de directo con Sidonie durante un breve período de tiempo así como haber realizado composiciones junto a Pedro López y Pat Scoin (Los Romeos) en "Belfast" formación de cuyas cenizas surgiría "Lula", el nuevo proyecto musical de Pat.
El músico castellonense presentará en un segundo pase de la función su nuevo trabajo "Mr. Good Horse", un Ep de cuatro cortes en el que retoma sus inicios en formato eléctrico tras dos entregas anteriores en un formato íntimo y acústico.
"Mr. Good Horse" recoge el resultado de las grabaciones realizadas en diferentes estudios de la geografía española para las cuales se contaron con las colaboraciones de Ramiro Nieto (The Right Ons), Nacho García (Cooper, Jero Romero), Eloy Alcaide (Skizophonic) o Willy Tornado (The Freewheelin' Tornados) entre una larga lista de músicos invitados. El Ep ha sido mezclado y masterizado en Miami en los estudios Personal Music por Luis Gomez, ingeniero de renombre que cuenta en su haber con varios Leones de Oro de Cannes por sus producciones en el sector de la publicidad.
El nuevo Ep de 4 cortes ha recibido numerosos elogios por parte de la crítica musical y le ha valido a J.M para colarse en algunas listas de medios especializados como parte del lo mejor del 2014 así como llegar a la final del concurso Vinilo Valencia 6.0.
Tras las buenas críticas cosechadas con "Junior Mackenzie"(2008), "Songs From The Top Of A Mountain"(2010), "Melodies For The End Of The World" (2112) y sus mini giras acústicas por Estados Unidos, "Mr. Good Horse" (2014) supone un paso más y una reinvención para un músico difícilmente encasillable estilísticamente que puede sentirse orgulloso de haber girado con The Kills y haber teloneado a grandes artistas internacionales como Frank Black, Richard Hawley, Zucchero, Greg Dulli, Radio Moscow, Gomez, Smile, Jacobo Serra, Ainara Legardón o al ex-Sunday Drivers Jero Romero entre otros.
Un doble cartel para una misma noche centrada en un personaje con bipolaridad musical. Una experiencia que se presenta realmente interesante tanto para el músico como para el público.
Lugar: Teatro Municipal de Benicàssim
Precio: 3,00 €
No recomendada para menores de 18 años
Horarios:
28/06/2015 - 19:00 h.
Information compiled by:
TOURIST INFO BENICÀSSIM
Calle Santo Tomás, 76 - bajo (Casa Abadía),
12560 Castellón
Phone: 964300102
Fax: 964300139
Email: benicasim@touristinfo.net
This office does not assume responsibility for sudden changes or variations of the events published on this site.