Música: Dúo Tamayo Montesinos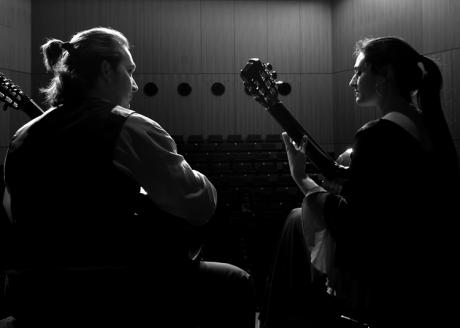 Description:
Actividades culturales
Dates:

Starts: 02/09/2016
Ends: 02/09/2016
Anabel Montesinos, la ganadora más joven (a la edad de 17 años) del Concurso Internacional de Guitarra Francisco Tárrega en España, es una figura líder de la guitarra clásica en todo el mundo. Ganadora de muchos otros importantes concursos de guitarra como el Michelle Pittaluga, Cita di Alessandria, en Italia y el Andrés Segovia en España, Anabel Montesinos ha realizado conciertos por todo el planeta, hizo su debut en el Carnegie Hall en el año 2011, ha ofrecido conciertos varias veces en la sala Tchaikovsky de Moscú, y actuado como solista con orquestas como la Filarmónica de Torino-Italia, Filarmónica de Oulu, Finlandia, la Filarmónica de La Habana -Cuba, Filarmónica de Moscú-Rusia, etc. Ha grabado para el sello Naxos, y su primer CD fue elegido como parte del programa de música para vuelos intercontinentales por la línea aérea British Airways. Anabel Montesinos es una artista Savarez, interpreta con cuerdas Cantiga azules y su guitarra es una Simon Marty, de Australia. Anabel Montesinos es también ciudadana de honor de la ciudad de Solero, en Italia.
Marco Tamayo, el guitarrista cubano con nacionalidad austriaca, aclamado como "Il Re della Chitarra" por el diario italiano L'Stampa, es ganador de importantes concursos internacionales como el Michelle Pittaluga, Citá di Alessandria, en Italia, Andrés Segovia en España, N. Koshkin-Primer Concurso Internacional de Rust, en Austria, Concurso Leo Brouwer-Internacional de la Habana, en Cuba, etc. Ha interpretado como solista con orquestas y directores muy conocidos en todo el mundo y es una figura líder en la guitarra clásica tanto como concertista al igual que como enseñante. Marco Tamayo es Profesor en la Universidad Mozarteum de las Artes en Salzburgo, es Profesor en el Landeskonservatorium en Klagenfurt, ambos en Austria. Además, es Profesor invitado en la Academia de Música de Gdansk, Polonia, y fue un profesor de la Universidad de Sydney en Australia. Su libro titulado "Principios Esenciales para la interpretación en la guitarra clásica" ha cambiado el enfoque sobre el instrumento y su enseñanza en todo el mundo. Sus estudiantes disfrutan de una carrera internacional. Marco Tamayo es director artístico del concurso Michelle Pittaluga Int. en Alessandria, Italia, es también ciudadano de honor de la ciudad de Alessandria y Solero, ambas en Italia. Tamayo interpreta con una guitarra Marty Simon. Es un artista Savarez, e interpreta con cuerdas Alianza Azul-Cantiga. Marco Tamayo es Presidente del Marco Tamayo Edition, creada en 2014 y que ha renovado las ediciones de guitarra clásica hasta nuestros días.
El dúo de guitarra clásica Tamayo-Montesinos nació de la base de la música y el amor. Ambos solistas conocidos, disfrutan tocando juntos y nos refrescan lo que F. Chopin manisfestó: "La guitarra es el instrumento más hermoso. Tal vez más bello que una guitarra: dos guitarras" El público escuchará en vivo obras originales y transcripciones llenas de virtuosismo, diversión y el "bel canto".
PROGRAMA
Preludio y fuga BWV 848................................................. J. S. Bach (Arreglo M.Tamayo)
El barbero de Sevilla........................................................ M. Giuliani
Danza oriental................................................................. E. Granados
Golliwog's Cakewalk de " Children's Corner".................. C. Debussy (Arreglo M.Tamayo)
3 canciones de "The Beatles"......................................... Arreglo L. Brouwer
Cambridge Suite.............................................................. N. Koshkin
Introducción y Fandango................................................ L. Boccherini (Arreglo M.Tamayo)
Primera sonata de "Centone di Sonate"......................... N. Paganini (Arreglo M.Tamayo)
Lugar: Teatro Municipal de Benicàssim
Precio: 3,00 €
Apta para todos los públicos
Horarios:
02/09/2016 - 22:30 h.
Information compiled by:
TOURIST INFO BENICÀSSIM
Calle Santo Tomás, 76 - bajo (Casa Abadía),
12560 Castellón
Phone: 964300102
Fax: 964300139
Email: benicasim@touristinfo.net
This office does not assume responsibility for sudden changes or variations of the events published on this site.