Música: Coro In Te Domine "Mesías"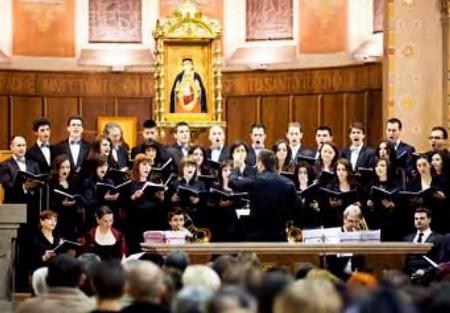 Description:
Actividades culturales
Dates:

Starts: 22/12/2013
Ends: 22/12/2013
Address:
Teatro Municipal. Plaza Constitución, 3
City: Benicàssim
DOMINGO 22.................................................. 19:30 h
Precio: Todos los públicos
Compañía: CORO IN TE DOMINE, FORMADO POR 29 cantantes.
ORQUESTA "MUSICA VIVA NULES" VARIANTE SIN CUERDAS, FORMADA POR:
-2 OBOES SOLISTAS,
-2 TROMPETAS,
-1 TIMBALES,
-1 CLAVECIN DE LA EPOCA,
-1 ORGANO TUBOS POSITIVO
SOLISTAS CANTANTES
- SOPRANO
- CONTRATENOR (ALTUS)
- TENOR
- BAJO.
Argumento:El Mesías HW 56 es la obra más conocida de Georg Friedrich Händel, que ocupa un lugar único dentro de la extraordinaria colección de oratorios handelianos. Mientras que en los demás oratorios de Händel puede reconocerse una marcada influencia italiana, la música de El Mesías se arraiga en las antiguas pasiones y cantatas alemanas.
Programa:
1ª PARTE:
1 OVERTURE
2 Recit.: "Confort ye" (TENOR)
3 Aria: "Every Valley" (TENOR)
4 CORO: "And the Glory"
5 Aria:"But who may" (CONTRATEN)
6 CORO: "And He shall purify"
7 Recit. "Behold" (CONTRATEN)
8 Recit.: "For, behold" (BAJO)
9 Aria: "The people" (BAJO)
10 CORO: "For unto us a child"
11 Recit: (SOPRANO)
12 Recit: (SOPRANO)
13 CORO: "Glory to God"
14 Aria: "Rejoice" (SOPRANO)
15 Recit: "Than shall" (CONTRATEN)
16 Aria: "He shall feed his flock" (CT+SOPR)
2ª PARTE:
17 CORO: "Surely"
18 CORO: "And with his stripes"
19 CORO: "He trusted in God"
20 Recit.: "Thy rebuke" (TENOR)
21 Aria: "Behold, and see" (TENOR)
22 CORO: "Lift up your heads"
23 Aria: "Thou art upon on high" (CONTRATEN)
24 CORO: "Hallelujah!"
25 Aria: "I know that my Reedemer liveth" (SOPRANO)
26 CORO: "Since by man"
27 Recit.: "Behold, I tell you" (BAJO)
28 Aria: "The trumpet shall" (BAJO)
29 CORO: "Worthy is the Lamb"
30 CORO: "Amen!"
Lugar: Teatro Municipal. Plaza Constitución, 3
Information compiled by:
TOURIST INFO BENICÀSSIM (eng)
Calle Santo Tomás, 76 - bajo (Casa Abadía),
12560 Castellón
Phone: 964300102
Fax: 964300139
Email: benicasim@touristinfo.net
This office does not assume responsibility for sudden changes or variations of the events published on this site.