Música: Concierto del cor Infantil amics de la Unió de Granollers "Nadal amb el Cor"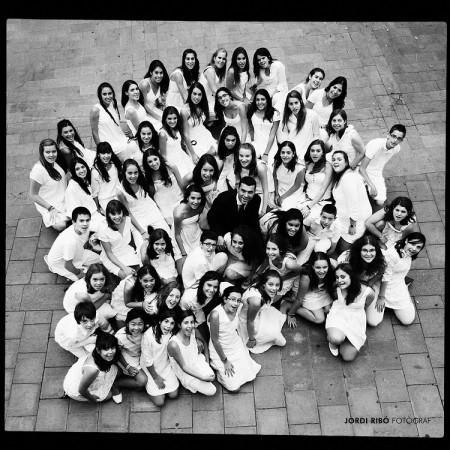 Description:
Actividades culturales
Dates:

Starts: 20/12/2014
Ends: 20/12/2014
El Cor Infantil Amics de la Unió celebra las fiestas con este concierto donde presenta una primera parte con una selección de música y canciones tradicionales con atractivas coreografías y una segunda parte en la que avanza parte del contenido del
que será su próximo disco que consiste en la obra Suite Navideña de Albert Guinovart, que recoge y combina diversas canciones de Navidad tradicionales catalanas.
El Coro Infantil Amigos de la Unión nace en 1996 con la Escuela de Música creada ese mismo año dentro de la Sociedad Coral Amigos de la Unión de Granollers. Dirigida desde sus inicios por José Vila Jover, esta formación de voces blancas de entre once y diecisiete años destaca por la calidad, el eclecticismo y la singularidad de sus producciones. El corazón ha llevado a cabo óperas infantiles como Brundibar a Thereza de H. Krása bajo la dirección de Quim Lecina o Hansel y Gretel de E. Humperdinck, espectáculos para público escolar y familiar como Sueños de Músico en colaboración con la Joven Orquesta Nacional de Cataluña, o conciertos teatralizados como V-E-U-S! bajo la dirección escénica de Marta G. Otín, siempre buscando una manera original y sorprendente de presentar la música, renovando así la tradición coral en nuestro país.
El Coro Infantil ha cantado bajo la dirección de maestros como Christian Grube, Michael Boder, José Luis Basso, Daniele Callegari, Manuel Valdivieso o Òscar Boada y ha actuado en los principales auditorios, festivales y ciclos corales del país: Palau de la Música Catalana, L Auditori, Festival del Milenio, Festival de Música Antigua de los Pirineos, Festival Internacional de Percusión de Cataluña, o el Festival (A)phònica , entre otros. El corazón ha colaborado también en producciones de la temporada del Gran Teatro del Liceo como Der Rosenkavalier de R. Strauss (2010) y Pagliacci de R. Leoncavallo y Cavalleria Rusticana de P. Mascagni (2011) .
La formación, que ha sido premiada en reconocidos concursos y certámenes corales (Concurso Let the Peoples sing de la Unión Europea de Radiodifusión, Certamen Coral de Tolosa, Certamen Juvenil de Habaneras de Torrevieja, Festival de Cantonigròs) ha llevado a cabo varias grabaciones de entre los que destacan Dancing Day de John Rutter y Ceremony of Carols de Britten (La Mano de Guido - 2012), El Bestiolari de Albert Guinovart (Todo Suena - 2010) o José M. Ruera - Música Vocal (Ars Harmonica - 2009).
REPERTORIO
Primera parte
Let it shine-Kari Alla-Pollanen
Hotaru Koi Rö Ogura
Rondel-Eduardo López Chávarri
La nostra dansa-Josep M. Ruera
Hoquetus-Joan Vidal
Non poto reposare-Salvatore Sini
Volta la carta-Fabrizzio de André
Song of Hope-Susanna Lindmark
Bae, bae, lille lamb-Nils Henrik Asheim
Segunda parte
Suite Nadalenca-Albert Guinovart
El desembre congelat
El dimoni escuat
El petit vailet
El noi de la mare
Fum, fum, fum
LUGAR: Espai de la Música Mestre Vila
PRECIO: Gratuito - Apto para todos los públicos
HORARIO: 19.30h.
Horarios:
20/12/2014 - 19:30
Information compiled by:
TOURIST INFO BENICÀSSIM
Calle Santo Tomás, 76 - bajo (Casa Abadía),
12560 Castellón
Phone: 964300102
Fax: 964300139
Email: benicasim@touristinfo.net
This office does not assume responsibility for sudden changes or variations of the events published on this site.