JOSÉ MERCÉ Y JOSÉ MANUEL ZAPATA "Tango mano a mano"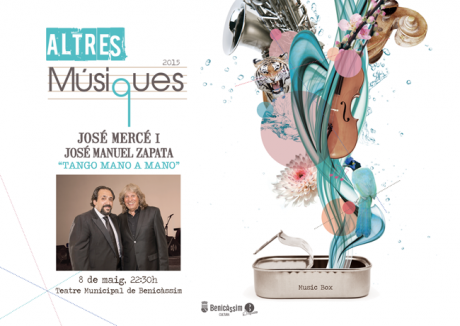 Description:
Actividades culturales
Dates:

Starts: 08/05/2015
Ends: 08/05/2015
Ficha artística: Cantaor: José Mercé; Tenor: José Manuel Zapata; Guitarra: Fernando Egozcue ; Piano: Daniel Oyarzábal; Contrabajo: Pablo Martín Caminero; Bandoneón: Claudio Constantini; Violín: Tomás Potirón
José Mercé y José Manuel Zapata, se unen de nuevo para homenajear al tango clásico, y en especial a la figura de Carlos Gardel. Tangos inolvidables como "Cuesta abajo", "Mano a mano", "Volver", "Tomo y obligo", sonarán en las voces de estos dos artistas, maridados con tangos de corte más moderno como "Garganta con Arena" o "El corazón al sur". La unión del flamenco, la voz lírica, y la música argentina crean un espectáculo único, lleno de emociones.
El espectáculo hace un recorrido por los tangos más célebres de la historia, incorporando otras piezas emblemáticas de la discografía de los dos artistas, como homenaje de ellos al género: piezas flamencas, piezas líricas, que a su vez se verán acompañadas de piezas instrumentales adecuadamente elegidas para completar este homenaje.
El granadino José Manuel Zapata, tenor de meteórica trayectoria y habitual de teatros de la talla del Metropolitan de Nueva York, vive y respira música. Su maravillosa voz protagoniza este homenaje a Carlos Gardel que se encama sobre las tablas a través del respetuoso y emocionante homenaje a su legado, vivo entre adoradores de su arte como el propio Zapata.
De la mano de estos maravillosos intérpretes, el público recreará la cálida y mágica atmósfera del tango y recuperará los vivos textos de Gardel, transportándose a los salones de época de los años veinte y treinta.
José Manuel Zapata empezó su acercamiento al tango de la mano de Pasión Vega en un espectáculo conjunto en directo, con un repertorio integrado por tangos argentinos clásicos. Posteriormente, el proyecto se convertiría en un disco en el que Zapata canta tangos a dúo junto a Miguel Poveda, Rocío Márquez, Marina Heredia, Ángela Cervantes y José Mercé.
Ahora el cantaor gaditano José Mercé, un experto en la interpretación del tango flamenco, hace honor al título de una de las canciones de su último disco, "Tangos de ida y vuelta" en este proyecto junto a Zapata. Los interpretarán junto a un quinteto formado por piano, guitarra, bajo, violín y bandoneón, demostrando que las distancias entre tango, flamenco y bel canto pueden desaparecer cuando hay un nexo común que gira alrededor de algo tan universal como es el sentimiento.
Precio: 18,00 €
No recomendada para menores de 16 años
Lugar: Teatro Municipal de Benicàssim
Horarios:
08/05/2015 - 22:30 h.
Information compiled by:
TOURIST INFO BENICÀSSIM
Calle Santo Tomás, 76 - bajo (Casa Abadía),
12560 Castellón
Phone: 964300102
Fax: 964300139
Email: benicasim@touristinfo.net
This office does not assume responsibility for sudden changes or variations of the events published on this site.