Artichokes from Benicarló, a grill for everybody
Publishing date 25/01/2016
Fried, griddled, grilled or preserved… artichokes, the exquisite green par excellence, is at the centre of a gastronomic celebration which is held in Benicarló, despite the rigours of winter. Delicious!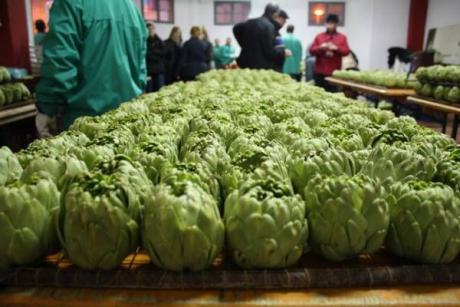 Artichokes, a product with a Denomination of origin, are at the heart of this festivity in which all kinds of dishes based on artichokes from Benicarló are prepared, whose central events will be held during this week-end. Enjoy the winter and come and enjoy one of the healthiest and most delicious vegetables available.

To begin, on Saturday, Januray 30 there is a popular torrà (barbecue) of roast artichokes for the symbolic price of 2 euros, held at Plaza de la Constitución, starting at 7:30 AM. On Sunday 31, a gastronomic demonstration by the leading chefs in the region will be held from 11:30 onwards. The tasting will take place in the streets of the town.

However, things don't finish there, as the gastronomic sessions, in which 21 restaurants and the the Benicarló CIP de FP participate with different menus, will be held up to March 6nd. Come and taste delights such as artichoke chips, rice with artichokes and shrimp, eggplant cannelloni stuffed with artichoke, or fusion of Galician octopus and Benicarló artichokes. Come to Benicarló to have the meal of your life! You have until March to do so.