Benagéber hosts the "VI Feria de los Pueblos Amigos"
Publishing date 6/05/2013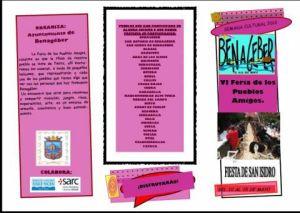 The Feria de los Pueblos Amigos brings a party atmosphere to the main square in Benagéber. The stalls set up around the square are like little balconies giving a glimpse into what life is like in each of the villages connected in some way with residents in the local area. The event is a kind of community gathering, where people meet up to share experiences, games and art, and tell visitors about their customs and traditions.
The fair attracts people from villages all over the Region of Valencia, plus from other parts of Spain. Over the last six years, the fair has brought people from places such as San Antonio de Benagéber, San Isidro de Benagéber, Aldaia, Aranjuez, Aras de los Olmos, Belmonte, Banaguasil, Benidorm, Bétera, Buñol, Calles, Casas Bajas Chera, Medina del Campo, Nieva Quart de Poblet, Requena, Serradilla, Silla, Sinarcas, Sueca, Tetuán, Tuéjar, Utiel, Valdeserrillas and Yátova.
At the "Feria de los Pueblos", planned for Saturday 11 May, you'll be able to buy handcrafted products from the villages taking part, eat a portion of the giant paella being made in the square and see some amazing displays of Harley Davidson motorbikes and vintage cars.
The fair programme includes a theatre performance and the closing event is a mobile disco session led by DJ JJ Santos.
The fair makes this weekend the perfect time to visit Benagéber. It's a great chance to see the town's fantastic natural heritage and we suggest you make the most of your time there to do some walking or try any of the dozens of activities on offer in the area around the nearby reservoir.
More information:
TOURIST INFO ALTO TURIA
Carretera CV-35, KM.73
46177 TUÉJAR
Tel: 961635084
E-mail: tuejar@touristinfo.net