During the long October weekend, Ayora celebrates its Honey Fair
Publishing date 30/09/2015
The First Cut of the Honey is a beekeeping event which brings together gastronomy, tourism and culture. The common thread of the event is, of course, honey, a typical product of the region. Highly valued for its quality since it is made up of more than 70 different substances, of course, honey will be present in Ayora during the long October weekend.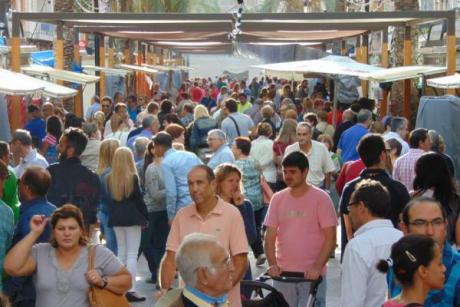 The honey lovers will enjoy in the beekeeping area where they will find all existing varieties of honey and products thereof (propolis, royal jelly, candy, cosmetics...) and the biggest attraction of the fair: a large urn of glass with hives inside, where beekeepers come and play their work, from the moment the hive is installed and up to the extracting of honey, which they will later offer the public to taste.

Many activities are those offered by Ayora to its visitors, such as the tasting of typical local products from the region in the gastronomic area, guided visits to the Cultural Interest Monuments within the town, and to the theme alleys (the beekeeping alley, the slaughtering alley and the alley of illustrious personages, as well as the exhibition of the chapels of the Villa hold in the Chapel of Our Lady). For nature lovers, the town offers visits to the cave paintings of Tortosilla Shelter, a World Heritage, and to the Iberian settlement of Castellar de Meca.

So that families can visit comfortably the fair, the little ones will have fun on the playground and entertainment area, where various educational activities such as face painting, balloon twisting, and crafts that will help them discover the secrets of beekeeping may be enjoyed... The program is completed with various activities for all ages, such as an exhibition of birds of prey, honey and dishes contests, various musical performances... Will you have time for everything?