VI Concurso Fotográfico Fiestas de Ayora 2017
Del 4 al 15 de agosto 2017
Este año se cumple la 6a edición del Concurso Fotográfico con motivo de las Fiestas de Ayora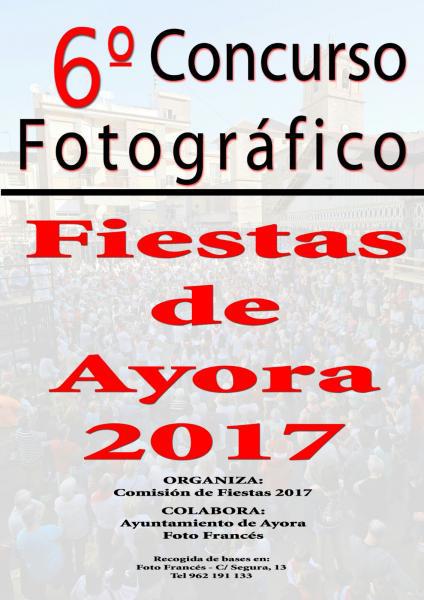 Description:
Premios y concursos
Dates:

Starts: 03/08/2017
Ends: 19/08/2017
Estas son las bases que rigen el concurso:
1 - El tema del concurso serán las Fiestas de Agosto 2017 en Ayora, del 4 al 15 de agosto, en todos sus actos. Las fotografías deberán estar, obligatoriamente tomadas durante las Fiestas 2017, reservándose el jurado su derecho a eliminar del concurso todas aquellas obras que se presuman no cumplan este requisito.
2 - La inscripción es limitada y se realizará en FOTO FRANCÉS, C/ Segura 13 en Ayora. Asciende a 4€ y dará derecho a una copia en tamaño 20x30 y una cartulina negra de 40x50 para montar la exposición.
3 - Cada concursante puede presentar tantas fotografías como estime oportunas.
4 - La técnica para la toma de fotografías será libre.
5 - El jurado estará compuesto por personas relacionadas con el mundo de la fotografía y la Comisión de Fiestas 2017.
6 - Los archivos de las fotografías se entregarán antes de las 14:00 horas del día 19 de agosto en FOTO FRANCÉS, C/ Segura 13.
7 - Con cada obra presentada se adjuntará la hoja de datos que proporcionaremos en el momento de la inscripción.
8 - La inauguración de la EXPOSICIÓN de las fotografías presentadas, se realizará en la Casa de la Cultura de Ayora el 1 de septiembre a las 20:00 horas. La Entrega de Premios será el 23 de septiembre.
9 - Los premios serán:
1er premio: 100€
2do premio: 50€
3er premio: 25€
10 - Las fotografías premiadas quedarán en propiedad de la Comisión de Fiestas 2017.
11 - La participación en el concurso supone la total aceptación y conformidad con lo dispuesto en las presentes bases, así como la decisión del jurado.
12 - La organización se reserva el derecho a modificar estas bases.
Para más información: FOTO FRANCÉS, C/ Segura, 13 - AYORA TELF: 96 219 11 33
This office does not assume responsibility for sudden changes or variations of the events published on this site.