Triatlón Ayora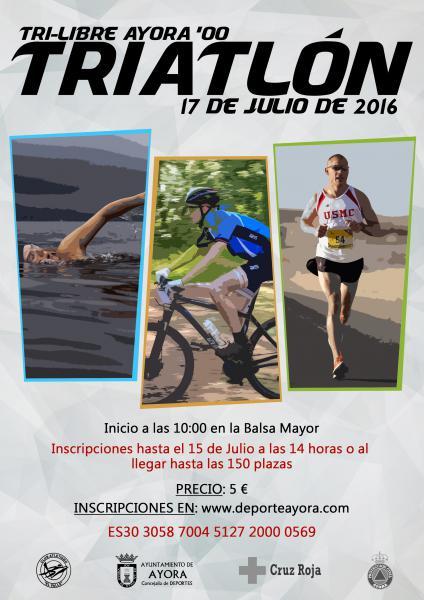 Description:
Actividades de ocio
Type: Deportes
Dates:

Starts: 17/07/2016
Ends: 17/07/2016
CARACTERISTICAS GENERALES DEL TRIATLÓN ' 00 Masculino y Femenino
OBJETIVO PRINCIPAL: PROMOCIÓN DEL TRIATLÓN COMO ACTIVIDAD DEPORTIVA. NO HAY TROFEOS
A LA CLASIFICACIÓN, PERO SI SE ENTREGARÁ UNA CAMISETA Y UN RECUERDO DE LA PARTICIPACIÓN. EL TOPE DE PARTICIPANTES SERA DE 150
CAFÉ Y CONCENTRACION: DÍA 17 DE JULIO DE 2016 - A LAS 9 DE LA MAÑANA EN LA PLAZA DE LA ASUNCIÓN PARA DEJAR LAS ZAPATILLAS DE CARRERA Y NUMERACIÓN
INICIO A LAS 10 DE LA MAÑANA DESDE LA BALSA MAYOR, EN 2 O 3 SALIDAS.
DESCRIPCION:
NATACIÓN..................................................360 M 2 VUELTAS BALSA
BICI MONTAÑA........................................ 13 KM ASFALTO Y CAMINO
CARRERA PIE..............................................3'5 KM ASFALTO (DISTANCIAS APROXIMADAS)
INSCRIPCIONES: 5 euros, ingresados en cuenta.
Cajamar-Ayora ES 3 0 3058 7004 5127 2000 0569
Para participar en el TRIATLON'00 2016, una vez hecho el ingreso, inscribirse en PAGINA WEB:
DEPORTE AYORA – CLUB ATLETISMO EL VALLE (www.deporteayora.com)
Fecha tope: 15 de Julio a las 14 horas o cuando se hayan cubierto las 150 plazas
- CUADRO DE TEMPERATURAS: AGUA: 18º ASFALTO: 40º AMBIENTE: 25º NI FRIO NI CALOR: 0º
- TRAJE DE BAÑO Y NEOPRENO: Participantes, masculino y femenino: uso voluntario
- En tramo de bicicleta, uso del casco obligatorio
- Tráfico, no cortado, es obligatorio respetar las normas de circulación y Ley de Seguridad Vial
- Avituallamiento al final de la prueba (fruta, agua)
- En natación es muy recomendable el uso de gafas de baño
- Se recomienda a los participantes que presten auxilio a aquellos que lo necesiten. No arrojar basura, ni otro
tipo de objetos.
*AL SER UNA PRUEBA LIBRE, NO HAY TUTELA DE LA FEDERACIÓN, NI JUECES, POR LO QUE SON
LOS PARTICIPANTES, QUIENES SE REPONSABILIZAN DE HACER LA TOTALIDAD DEL RECORRIDO.
*SE FIRMARÁ UN DOCUMENTO DE DESCARGO DE RESPONSABILIDADES, CUANDO SE LES
ASIGNE EL NÚMERO, REQUISITO IMPRESCINDIBLE PARA LA PARTICIPACIÓN.
*LOS MENORES, DE ENTRE 12 Y 16 AÑOS, DEBEN IR ACOMPAÑADOS.
ORGANIZA: CLUB ATLETISMO EL VALLE
COLABORAN: AYUNTAMIENTO DE AYORA - CRUZ ROJA - PROTECCION CIVIL
This office does not assume responsibility for sudden changes or variations of the events published on this site.