Ruta del Agua en Ayora
Ruta senderista Molinos y Agua
Se trata de una ruta con salida y llegada desde la población de Ayora y que se caracteriza por su gran belleza, donde conocer durante el trayecto la flora de la zona, cultivos de secano y especialmente zona de regadío. Visitaremos el minado y el nacimiento de Fuente Redonda. Veremos el entramado formado por acequias principales y secundarias, canalizaciones, balsas, depósitos y los que fueron los seis molinos harineros maquileros que hubo en las inmediaciones de la población, todos ellos movidos hidráulicamente por las aguas de dichas canalizaciones.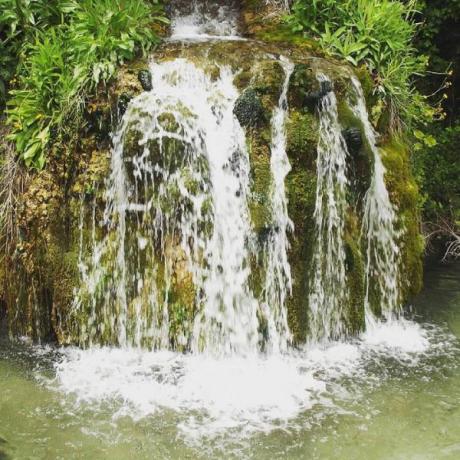 Description:
Actividades de ocio
Type: Rutas y excursiones
Dates:

Starts: 24/09/2017
Ends: 24/09/2017
Disfrutaremos con las vistas panorámicas de la población, con su castillo, Iglesia Mayor, Virgen Del Rosario y la sierra de Ayora como fondo. Y conoceremos sus amplios recursos naturales y paisajísticos.Visitaremos el molino de la Noguera, el único que queda rehabilitado y en funcionamiento, de los veintiséis que hubo en el valle, de los cuales seis pertenecieron
a Ayora y nos encontraremos a lo largo del recorrido. Molinos de La Pedriza, La Noguera, Del Amor, Balsa Mayor, De Liseo y El Balson. Se trata pues del último
superviviente de la historia molinera del valle, convirtiéndose en un auténtico museo etnológico, que podremos conocer y ver en funcionamiento gracias a su propietario Rodrigo Carpio.
Conoceremos de cerca los antiguos oficios relacionados con el agua (agricultores, molineros, regadores) y el entramado hidráulico creado para su desarrollo así
como las distintas partidas en las que se divide la zona de regadío (Agua Nueva, La Pedriza, El Llano, La Cruz Vieja, San Antón, La Rambla y Palaz )
Fecha: 30 de diciembre 2016
Hora: 10:00h. desde la Oficina de Turismo de Ayora (Calle San Francisdo s/n - Casa de la Cultura)
Recorrido: 6 Kilómetros
Dificultad: baja. Recomendable llevar agua, calzado y ropa cómoda
Duración aproximada de la ruta: de 3 a 3,30 horas
*Necesaria concertación previa en Oficina de Turismo de Ayora: 9621890658
This office does not assume responsibility for sudden changes or variations of the events published on this site.