The rugged terrain of the Alt Maestrat in a time lapse
Publishing date 11/10/2016
The Mola de Ares (1.315 metres) is the highest point in this region and the subject of a video that showcases one of the most beautiful areas in the Valencia Region.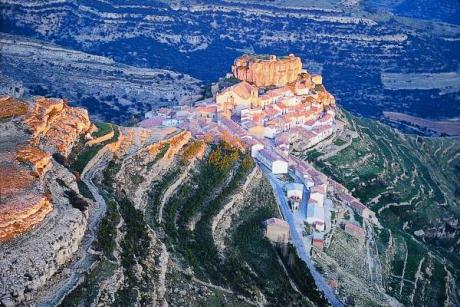 The camera soars above the ruins of the castle of Ares del Maestrat, which is located on a hill, a splendid lookout point to contemplate the landscape, nature, the mountains and stones offered by the Alt Maestrat region, in the inland of Castellón province. The time lapse travels above the rugged region, seeking the Mola de Ares (1.315 metres), the highest point in the area, at all times. These highlands were born from the processes of differential erosion that gave rise to highly unlevel cliffs. The green plain of the plateau is used for grazing livestock. From there, the beautiful landscapes of the valleys and mountains of the Maestrazgo and Els Ports can be contemplated.

After that, the camera pushes forward among the pine groves, holm oaks, oaks and Mediterranean undergrowth of a historic region which, beyond its characteristic landscapes with hills, ravines, rocky walls and terraces, also features beautiful towns full of history with churches and hermitages, gateways, slopes, walls and arches that taste like stone, like the past, like tradition, like cuisine based on rich and intense stews. But they also taste like flight, like a return to what is truly authentic and primal, to the countryside, to crafts, to sincere communion with nature. A spiritual, dreamlike trip in one of the most beautiful parts of the Valencia Region.