Aras en Flor, ephemeral gardens
Publishing date 4/07/2017
Geraniums, rosemary, lavenders, almond trees, chamomile apart from the traditional rosebushes will decorate many different of corners and portals of the houses Aras de los Olmos. A different proposal that you cannot miss.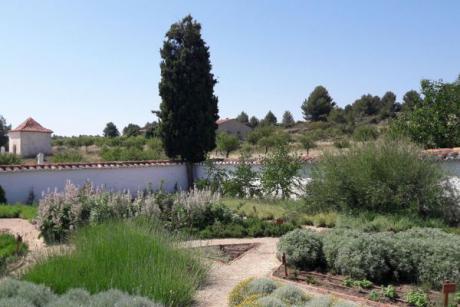 Until the next 31th July, you will find as you wander around until twelve ephemeral gardens decorating the streets of Aras de los Olmos (Valencia).The contest Aras en Flor, which will also offer workshops and nature observation days, was born with the idea to show the beauty of this municipality in the early days of summer and add also another tourist appeal to this beautiful destination.

For some years, the Town Council of Area de los Olmos has donated rosebushes to the neighbours so that they use them to decorate their portals and, therefore, give a more picturesque and appealing appearance to the town. Now, flowers and other elements like pineapples, straw, sand or pinocha make the lovely designs of ephemeral gardens that you will have to look for and picture. You have to know that there is a team of designers behind each proposal but the neighbours themselves put them in place. Don't you think it is a brilliant idea?

A curious fact. The Jardín Etnobotánico de Aras de los Olmos has been awarded as the best environmental initiative inside the IIIrd Contest of Cemeteries of Spain, as it is situated on an ancient graveyard. Now that you know it, you will have to add this visit to your schedule.

And to complete your experience in Aras de los Olmos, we can advise that you let night fall. This municipality is a renowned place for the world of Astronomy thanks to the quality of its sky, one of the cleanest in Spain, and free from light pollutions. From Aras to the stars!