Programa Fiestas: Moros y Cristianos de la Vila de Alzira
La 15ª edición de los Moros y Cristianos de Alzira arranca hoy viernes con la Entrada Falsa que partirá a las 21 h. desde la plaça Major hasta la del Regne. A las 22, casi 500 personas cenarán la tradicional Olla Mora. A la medianoche festeros y visitantes bailarán al ritmo de una orquesta en la plaça del Mercat.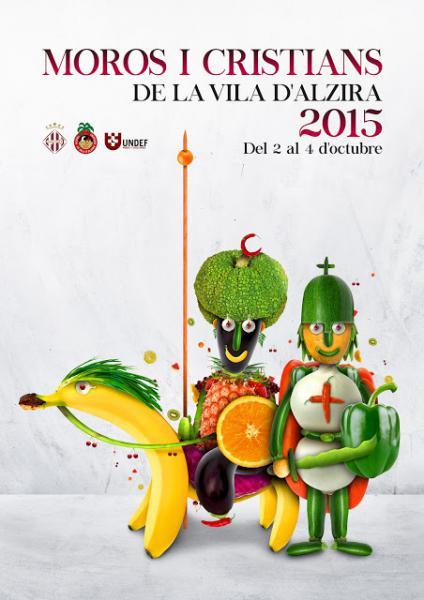 Description:
Programa de fiestas
Dates:

Starts: 02/10/2015
Ends: 04/10/2015
2 de octubre por la tarde y durante todo el fin de semana hay un mercado medieval en las plazas del Carbó y el Sufragi.
El 3 de octubre llega el día grande. A las 18'30 cabos y bandas de música realizarán el recorrido a la inversa hasta la calle Polinyà, desde donde este año partirá la Entrada a las 19'30 h. La feria del Automóvil ha obligado a hacer este mínimo cambio en el trayecto. Se cruzará la avenida Luis Suñer para recorrer Salvador Enguix, Major Santa Caterina, Correus y Sants Patrons y finalizar en la plaça del Regne. A continuación, Juan Ortega, como narrador; Jaume y Mayte Navarro (embajadores moro y cristiana) y Manel Arrebola en el papel de Jaume I representarán en la torre central de la Muralla del Mercat la toma pacífica de Alzira en 1242. El president de les Corts Valencianes, Enric Morera, será la principal personalidad de la tribuna de autoridades en la que también habrá representantes de fiestas tan importantes como Alcoi, Ontinyent, Paterna o Torrent.
El domingo 4 de octubre, a las 11'30, desde la calle Sant Roc –también novedad este año- retronarán las calles de la Vila con la arcabuzada que hará una breve parada en la iglesia de Santa Catalina para hacer una ofrenda de flores y alimentos a la titular. Por el mismo recorrido que la entrada, se seguirá disparando hasta la plaça del Regne. La asociación recomienda a los alzireños presenciarla con tapones de algodón, especialmente los menores.
Una comida de hermandad reconocerá la trayectoria y trabajo de diversos festeros y al anterior concejal de fiestas, Rafa Fita e impondrá la insignia de oro de la entidad a los tres anteriores presidentes de la entidad festera.
This office does not assume responsibility for sudden changes or variations of the events published on this site.