I Setmana Cultural - Moros i Cristians de la Vila d´Alzira
Del 9 al 16 d´Abril de 2016
L'associació Cultural Moros i Cristians La Vila d´Alzira celebrarà del 9 al 16 d'abril la primera setmana Cultural dins de la programació del Mig Any Fester. Amb aquesta iniciativa es vol donar a conèixer als veïns i veïnes d'Alzira i a tota aquella persona que ho desitge, conèixer més de prop la festa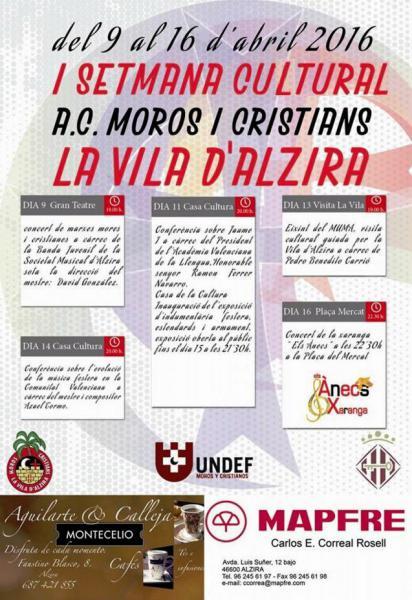 Description:
Actividades culturales
Dates:

Starts: 09/04/2016
Ends: 16/04/2016
DISSABTE 9 D´ABRIL
19:00Gran Teatre, la Societat Musical d'Alzira baix la batuta del mestre En David González ens oferirà un concert de marxes mores i cristianes.
DILLUNS 11 D´ABRIL
20:00Conferència a la Casa de la Cultura sobre la figura de Jaume I a càrrec del President de l´Acadèmia Valenciana de la Llengua, Honorable senyor Ramon Ferrer i Navarro.
També el dia 11 d'abril s'inaugurarà l'exposició d'indumentària festera, estendards i armament per commemorar el XV aniversari de l'associació i el X aniversari de la fundació del bàndol cristià. Exposició que estarà oberta fins el dia 14 d'abril.
DIMECRES 13 D´ABRIL
19:00Visita guiada per la Vila d'Alzira a càrrec de Pedro Benedito i Carrió amb eixida des del Museu Municipal d´Alzira - MUMA.
DIJOUS 14 D´ABRIL
20:00Conferència a la Casa de la Cultura l'evolució de la música festera en la Comunitat Valenciana a càrrec del mestre i compositor Azael Tormo.
22:30a la Plaça del Mercat Finalment, i per concloure els actes culturals, el dia 16 hi haurà un concert de la xaranga "Els Ànecs" a les.
DIVENDRES 15 – DISSABTE 16 D´ABRIL
Mig Any Fester, amb diferents actes festius i gastronòmics. El objectiu de parts d'aquestos actes va destinat a la preparació de la pròxima sultania de la Filà Mercaders. Esperem la participació dels veïns de la ciutat i que gaudeixen de la Setmana Cultural i del Mig Any Fester.
ENDAVANT LA FESTA!!!!!
This office does not assume responsibility for sudden changes or variations of the events published on this site.