In September, Altea surrenders to the festive atmosphere
September comes and the white villa dresses up to celebrate it. In Altea, Moors and Christians and other local festivities join each other to the delight of local citizens and visitors. Come to the white villa and enjoy the Moor and Christian entries, its embassies and processions ... Come now, you still have time!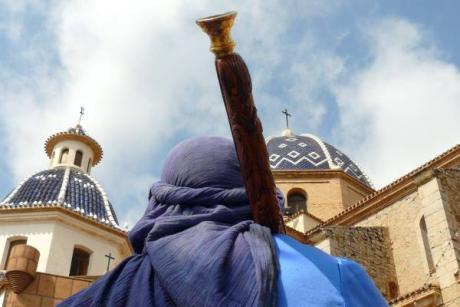 With the arrival of autumn, the fourth weekend of September, Altea dresses up for a party, a two-headed celebration with two patron saints. Moors and Christians festivities are celebrated in the honour of Saint Blai and Patronal celebrations pay tribute to the Holy Christ of the Sacrarium.

After introducing the festive charges, ladies and costumes, a celebration held on Saturday, the 19th of September, the party gets to to the streets to celebrate the entrance of Christians and Moors on Saturday the 26th of September and Monday the 28th, respectively. Both acts are concluded with an ostentatious show, the prelude of the arrival of the Christian Queen, Maica Botella, and the Moorish king, Gonzalo Muñoz.

Meanwhile, the party organizers take the leading role in the offering of flowers, on Sunday the 20th, when they go on pilgrimage with the local authorities to the church square, accompanied by the Banda de Música de la Sociedad Filarmónica Alteanense, concluding with the 21 gun salute to the Virgen del Consuelo. On Friday, the 25th of September, just after the traditional Announce of the Festivities, the "Entrà de la Murta" will be held, the bands will come in, banners and banderoles will be imposed and the opening speech by Jordi Picó will take place. The festive events will be running continuously until Tuesday the 29th, when the big finale in Barraca Festera will be celebrated.

As an epilogue, when the festivities come to an end, Altea will host the "Porrat de Sant Miquel", a traditional market that gets back some of the oldest traditions in Altea, as well as meaning an economic plus to all local commerce.

And the cheerful and colorful "porrat" proves once again that Altea, as every year in September when autumn comes, surrenders to the festive atmosphere.