Christmas in the Palace
Publishing date 22/12/2014
The music of the Swedish group Abba, Strauss, a Gospel choir, together with paintings by Lidó Rico, is the Christmas stars in the Palau de Altea. Music and painting come together in the white villa of Altea this Christmas to offer you the best art.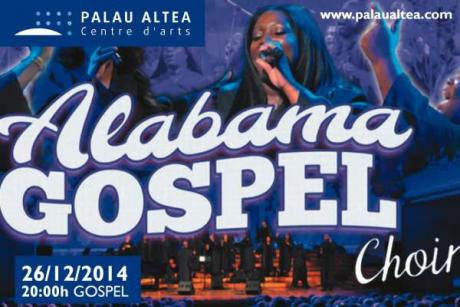 The Alteanense Philharmonic Society offers, on December 23rd, their traditional Christmas concert. The children's choir of students from the School of Music and Dance and the Municipal Conservatory in Altea also participate in the concert.

The Alabama Gospel Choir, one of the best representatives of American gospel, will offer a performance on Friday the 26th. This choir, awarded with a bronze star on the Walk of Fame in Alabama, has performed in prestigious venues, such as the Carnegie Hall in New York, the White House and the Christal Cathedral of Los Angeles. Thanks to its unique and personal style, the Alabama Gospel Choir has received excellent reviews and has won several awards.

And to end up, on January the 2nd, the Palau Altea hosts a musical with the best songs of Abba, on the 40th anniversary of the band. Dancers, musicians and singers take us into the fantasy world of Abba, singing and dancing each of their hits as if we were immersed in the 70s. The musical offers their most classic songs, such as Chiquitita, Mamma Mia, Dancing Queen and Waterloo.

And if that were not enough, Palau Altea expands its cultural offer programming a series of exhibitions of contemporary art. From December to June 2015, three artists will show their artwork in this exhibition: Lidó Rico, KribiHeral and Eduardo Infante, all three with a long career in the world of contemporary art.

The first of three exhibitions will be starred by the artist Lidó Rico (Yecla, 1968), with the title When the body wants to stay. It presents a sample of newly designed artwork thought exclusively for this exhibition space, in the Palau Altea. If the work of Lidó Rico has always revolved around using his own body as a tool and an element in his work, this time the artist sets new parameters within its unique path to develop new concepts that make reference not only to the body, but also to the environment, so that in his last works new natures emerge and adapt to space.

The Palau Altea opens every Thursday, 17 to 19 pm, to anyone who wishes to visit the exhibitions. You can also arrange a group visit by sending an email to palaudealtea@gmail.com.