XXXI Mostra D Artesania D Altea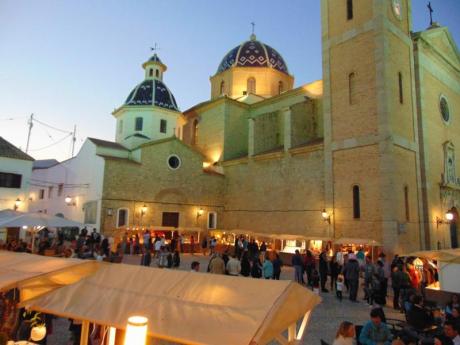 Description:
Mercados
Dates:

Starts: 28/06/2014
Ends: 31/08/2014
En total son 21 puestos de artistas que, con sus productos totalmente artesanales, participarán en la XXXI Mostra d'Artesania d'Altea. Los elegidos este año son: Fernando Carmona Quesada, Claudio Militello, Cecilia y Mercè González Martínez, Tania Rocha Rodríguez, Luis Rama Anda, José Mataix Hernando, Pablo A. Caporali, Miguel López de Aguileta, Lucía Lorente Ramajo, Guillermo Marcos Lucas, Tiziana Chiara, Eugenia Bosca Miralles, Isabel Mª Aranda Martínez, Ximena Walker, José Lopes Nunes, Stuart John Ward, Ana Leiva Parodi, Jesús Vaquero Dionis, Felipe Marcos Lucas, Isaac Romero Esteras y Marta Williams/ Jack Evinson . En cuanto a los talleres y oficios que estarán presentes en esta edición de la Mostra destacan por su número la marroquinería, la joyería, la bisutería y la cerámica. Además, se podrán adquirir artículos de madera, juguetes, marionetas, vidrio, caña y bambú, papel, seda, etc. Todos ellos pertenecientes a la artesania artística y de creación con un alto grado de manipulación en materias primas y contrastada calidad, porque así lo exige las propias bases que rigen la selección. Como es habitual, la Mostra d'Artesania estará presente en la Plaza de la Iglesia, en pleno Casco Antiguo de Altea, durante los días centrales de Semana Santa y los meses de julio y agosto; en este caso del 16 al 20 de abril y del 28 de junio al 31 de agosto.
This office does not assume responsibility for sudden changes or variations of the events published on this site.