XX Campeonato Nacional de Cricket XV Finales Copa KO
palau dels esports de la costa blanca d'altea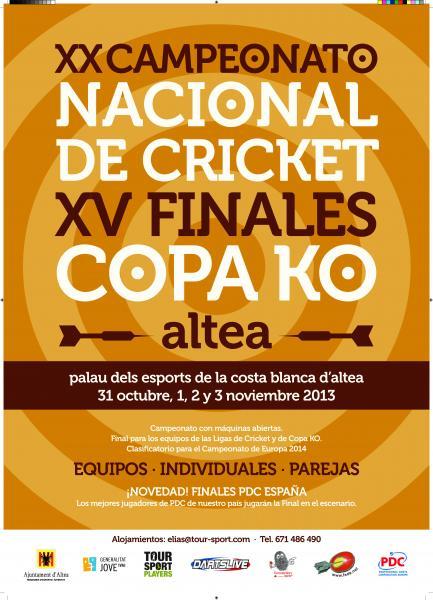 Description:
Grandes eventos
Dates:

Starts: 31/10/2013
Ends: 03/11/2013
NACIONAL DE CRICKET DE EQUIPOS: Es el torneo estrella. El Cricket es la más popular modalidad de juego que consiste en acertar con 3 dardos en 6 números distintos más la diana.
COPA KO DE TRIPLES: Este prestigioso trofeo se creó hace 15 años con la particularidad que el ganador se lo queda en propiedad durante 1 año hasta la edición siguiente que se pone en juego de nuevo. El que los consiga 3 consecutivos o 5 alternos se lo queda de por vida. El equipo Bisbita de Alicante es el único que ha conseguido la hazaña y se adjudicó el honor de ganarlo en 2007, 8 y 9. Y ahora lo tienen en propiedad.
Los equipos vienen clasificados a través de sus Ligas Provinciales y esperamos la participación de aproximadamente 400 equipos de Cricket y 150 en Copa KO.
En todos los eventos que organizamos se hacen en NIVELES de habilidad y en equipos contamos con 6 divisiones. El equipo campeón de cada nivel representará a España en el Campeonato de EUROPA 2014.
Además de los Equipos hay numerosas modalidades de juego:
o INDIVIDUALES: en 4 niveles de habilidad + Open individual + Junior sub16 + Femenino
o PAREJAS: en 2 niveles + open parejas
o EQUIPOS: Open de Equipos y Repesca por equipos.
INTERNACIONALES:
El listón que dejan los jugadores en el extranjero está muy alto y realmente nos temen y saben dónde está España en el mapa. Tenemos varios campeones del mundo en Las Vegas y en Europa como Jose Antonio Justicia, Yolanda Barba, Julio Barbero, Antonio Alcinas o Carlos Rodríguez.
This office does not assume responsibility for sudden changes or variations of the events published on this site.