XVIII FESTIVAL DE CORALES DE ALTEA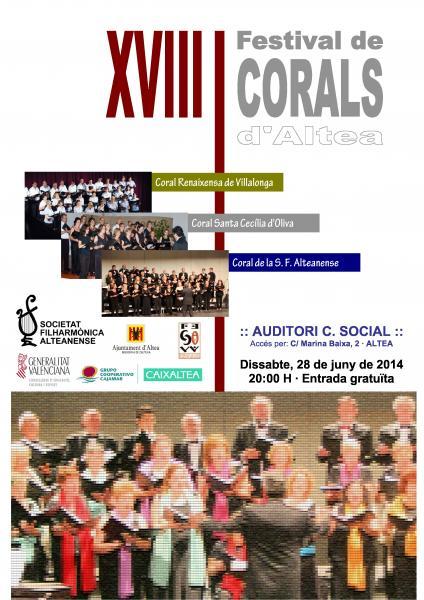 Description:
Actividades culturales
Dates:

Starts: 28/06/2014
Ends: 28/06/2014
XVIII FESTIVAL DE CORALS D'ALTEA
Sábado, 28 de junio de 2014
20:00 h · Auditori del Centre Social d'Altea
Entrada libre

P R O G R A M A

1a part: Coral Renaixensa de Villalonga

· El Yumuri. ( Havanera,) Ramon i Lluch
· Cantares. J.Manuel Serrat.
· Hijo de la Luna. J.Maria Cano.(Mecano)
· Andaluces de Jaen. Letra: Miguel Hernandez. Mus. Angel Corpas.
· Un beso y una flor. Jose Luis Armenteros. (Nino Bravo).
· Que tinguem sort. Lluís Llac.

Dtor.: Juan Miguel Terrazas Samper


2a part: Coral Santa Cecilia d'Oliva

· La gavina, de F.Sirés-J.Gustems
· My way, de C.Francois-J.R.Fevaux
· Mi sei simpatica, de Hernani Catena
· Sin ti, de Pepe Güizar
· Ojos de España, de B.Kaempfert-A.Franco
· Cançó d'amor, de M.Benedetti-L.Canfiano

Guitarra : Paco Escrivá · Director: Josep Malonda


3a part: Coral de la SFA

· NO LA DEVEMOS DORMIR Anónimo

Cancionero de Upsala-S. XVI
· ¡AY! LUNA QUE RELUCES Anónimo S. XVI
· MON COEUR SE RECOMANDE A VOUS Poème: Clément Marot · Musique: Orlando di Lasso
· IL BIANCO E DOLCE CIGNO Jacques Arcadelt (1504-1568)
· UN NUVOL BLANC Lletra i música: Lluis Llach · Versió coral: J. Crivillé i Bargalló
· OID, OID! Joan Brudieu

Madrigal II-1A Part
· GALANIA Lletra: Miquel Peris Segarra · Música: Matilde Salvador

Director: Joaquín Sastre Torrens
This office does not assume responsibility for sudden changes or variations of the events published on this site.