Planet Amarizku presentará el primer concierto de Eros y Tánatos en el Palau de Altea
A las 20 h. en Palau Altea
Viernes 13 de junio a las 20 h en Palau Altea Centre d'Arts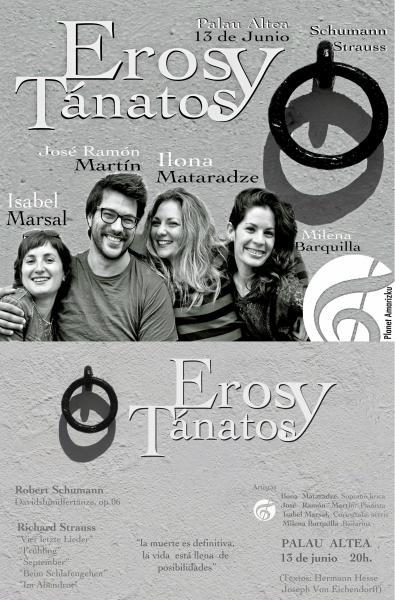 Description:
Actividades culturales
Dates:

Starts: 13/06/2014
Ends: 13/06/2014
La soprano lírica, Ilona Mataradze, la actriz y coreógrafa, Isabel Marsal, la bailarina, Milena Barquilla y el virtuoso pianista, José Ramón Martín,interpretarán los temas universales de la armonía de la vida y de la muerte, con obras de Robert Schumann "Davidsbündlertänze" y Richard Strauss "Vier letzte Lieder".
El concierto se plantea como una emersión en el mundo del romanticismo y el post romanticismo alemán, resaltando los cánones de este periodo: las emociones, los sentimientos y la intuición. Se plantea un concierto multidisciplinar, donde el contenido principal estará acompañado de bailes, proyecciones y una actriz que hará de hilo conductor y conectará las dos partes del espectáculo.
La primera parte del concierto, con piezas de Robert Schumann, acoge diversas situaciones de la naturaleza humana, de su obra "Davidsbündlertänze·. El público podrá ver bailes de alegría, tristeza e incluso euforia. La segunda mitad está dedicada a la última oración de Richard Strauss, "Vier Ietzte Lieder", donde manifiesta la belleza y el amor que hablan de la luz y el sueño eterno del alma, de la divina presencia y del cansancio, sentimientos particularmente afines con la vida de un matrimonio mayor.
Eros y Tánatos, proyecto ideado por la empresa Planet Amarizku, se representará a lo largo de 2014 en otros teatros españoles. "Me gustaría resaltar la importancia que tiene este proyecto para nosotros ya que hemos unido artistas de diferentes países y esta pluralidad ha conseguido que tengamos un concierto muy especial y que estamos convencidos gustará mucho al público", señala Fran de Sousa, gerente de Planet Amarizku y director de la obra.
Sobre Planet Amarizku
Planet Amarizku surgió en Valencia en junio de 2013, con el objetivo de apoyar a los músicos en todas las facetas de la producción y la promoción. Es una plataforma en la que diversos profesionales se han unido para conseguir sacar adelante el trabajo de muchos artistas.
VENTA DE ENTRADAS
AYUNTAMIENTO DE ALTEA
Plaza José Mª Planelles, 1 - 03590 Altea
Martes y jueves de 10h. a 14h.
TAQUILLA PALAU ALTEA
c/de Alcoy 18 - 03590 Altea
Jueves de 16:30h a 19:30h y
Desde 2 h. antes de cada función
ONLINE
www.palaualtea.com
palaualtea.reservaentradas.com
PALAU ALTEA Centre d'Arts
Calle de Alcoy, 18 - 03590 Altea
Tels. 966 881 924 / 965 843 359
GRUPOS E INFORMACIÓN ESPECIAL
608 644 853
www.palaualtea.com
This office does not assume responsibility for sudden changes or variations of the events published on this site.