EXPOSICION FOTOGRAFICA RUSA en ALTEA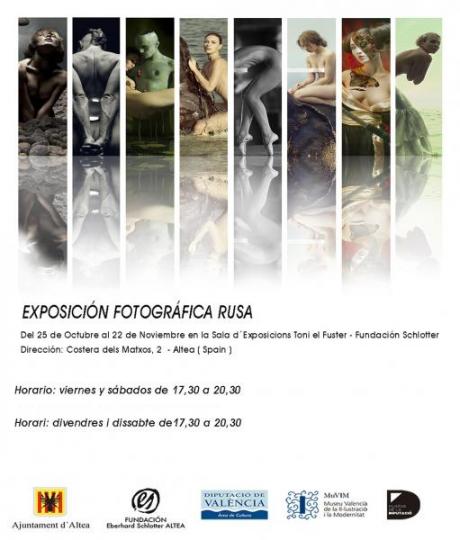 Description:
Actividades culturales
Dates:

Starts: 25/10/2014
Ends: 22/11/2014
EXPOSICIÓN FOTOGRÁFICA RUSA en la Sala d'Exposicions Toni el Fuster - Fundación Schlotter.
Se podrá visitar los viernes y sábados de 17,30 a 20,30h.
Los cambios sociales y económicos en esta sociedad en tránsito hacia un modelo capitalista han tenido su reflejo en la fotografía.
Los modelos de la vieja sociedad: los retratos, los paisajes, la exaltación del trabajo y la familia, la ordenada y puritana vida soviética van a dar paso a una nueva fotografía, que utiliza técnicas como el fotomontaje y la fotomanipulación, tradicionalmente usadas por la fotografía de denuncia y propaganda. Esta vez tienen un componente onírico, sensual, con fuerte presencia de la violencia y el sexo. Una exaltación de la sexualidad femenina, desde el punto de vista masculino y heterosexual, una visión hedonista realizada con depuradas técnicas digitales.
Esta muestra nos introduce en la obra de los fotógrafos más representativos que actualmente trabajan en Rusia en esta línea. De la mano del creativo Gonzalo Villar, que reside y trabaja en Valencia pero que desarrolla parte de sus trabajos en Rusia, se presenta la obra de Max Sauco, Vadim Stein, Toor Anatoly, Andrei Samarcev, Arkady Kozlovsky, Evgeniya Rudaya y Alexandr Savichev.
This office does not assume responsibility for sudden changes or variations of the events published on this site.