EL MONO de Xavi Castillo
Teatro en valenciano en Palau Altea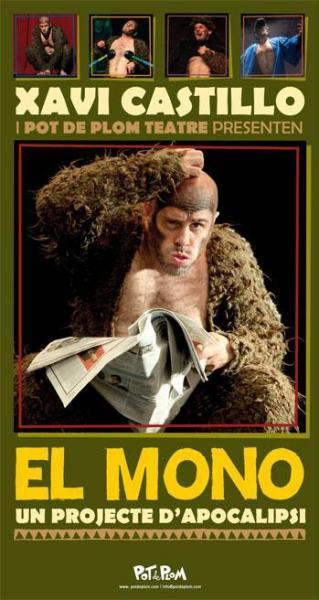 Description:
Actividades culturales
Dates:

Starts: 22/02/2014
Ends: 22/02/2014
ESPECTACLE EN VALENCIÀ
Estarà patint la societat una regressió evolutiva? La gent, cada vegada més cabrejada i indignada, es va asalvatjant: suïcidis, còctels molotov, setge al Congrés…Què està passant? On anirà a parar tot açò? L'apocalipsi ha arribat i només Xavi Castillo amb El Mono pot donar-te les claus de la salvació.
DISSABTE 22 FEBRER – 20:30h
PREU: 15 €
ESPECTÁCULO EN VALENCIANO
Estará sufriendo la sociedad entera una regresión evolutiva? La gente, cada vez más cabreada e indignada, se va asalvajando: suicidios, cócteles molotov, asedio al Congreso… ¿Qué está pasando? ¿Dónde irá a parar todo esto? El apocalipsis ha llegado y sólo Xavi Castillo con El Mono puede darte las llaves de la salvación.
SÁBADO 22 FEBRERO – 20:30h
PRECIO: 15 €
VENDA D'ENTRADES / VENTA DE ENTRADAS
Ajuntament / Ayto. Altea
Plaza José Mª Planelles, 1 - 03590 Altea
Dimarts i dijous de 10h. a 14h.
Martes y jueves de 10h. a 14h.
Taquilla Palau Altea
c/de Alcoy 18 - 03590 Altea
Dijous de 16:30h a 19:30h i
des de 2h. abans de cada funció
Jueves de 16:30h a 19:30h y
Desde 2 h. antes de cada función
ONLINE
palaualtea.reservaentradas.com
PALAU ALTEA
Centre d'Arts
Calle de Alcoy, 18 - 03590 Altea
Tels. 966 881 924 / 965 843 359
GRUPS I INFORMACIÓ ESPECIAL
GRUPOS E INFORMACIÓN ESPECIAL
608 644 853
This office does not assume responsibility for sudden changes or variations of the events published on this site.