ALTEATRE 2015
III Mostra de Teatre Amateur
Bases de participación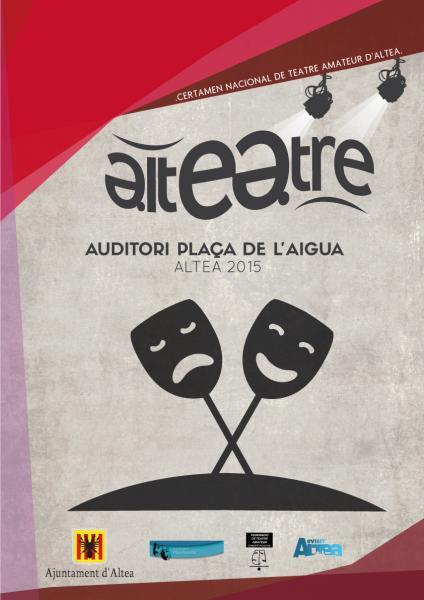 Description:
Actividades culturales
Dates:

Starts: 02/03/2015
Ends: 07/04/2015
El Ayuntamiento de Altea, conjuntamente con el grupo de teatro local Pla i Revés organizan, por tercer año, la muestra de teatro amateur Alteatre, que se realizará los próximos días 4, 11 y 18 de julio, en el parc de l'Aigua de Altea, a las 21 horas.
El plazo para presentar la documentación para participar en Alteatre finaliza el día 7 de abril de 2015 a las 14:00 horas.
La clausura y entrega de premios se celebrará el sábado, día 25 de julio de 2015, con una representación a cargo del grupo local Pla i Revés.
Los grupos que deseen participar deberán entregar la siguiente documentación, que será obligatoria y excluyente. La solicitud firmada por el representante del grupo y fotocopia de su DNI; la relación nominal de actores y una declaración jurada de su no vinculación profesional al mundo del teatro; la trayectoria del grupo en los últimos tres años; el ejemplar o copia íntegra de la obra o guión con que se desee participar, así como una síntesis, de entre 1 y 2 folios de la misma; el dossier de la obra con el reparto, la dirección, el montaje y la duración de la misma así como la ficha técnica de la obra; el DVD con la representación completa de la obra; recortes de prensa, fotografías, críticas o cualquier documentación que estimen oportuna; la fotocopia del registro legal de la asociación y el CIF y la autorización de la SGAE, solo exigible a los grupos seleccionados.
La solicitud y la documentación que la acompañe deberá dirigirse al Ayuntamiento de Altea, en la plaza de José María Planelles, nº1, 03590 de Altea. Con la indicación de ''III Mostra de Teatro Amateur Alteatre''.
This office does not assume responsibility for sudden changes or variations of the events published on this site.