Altea a través del espejo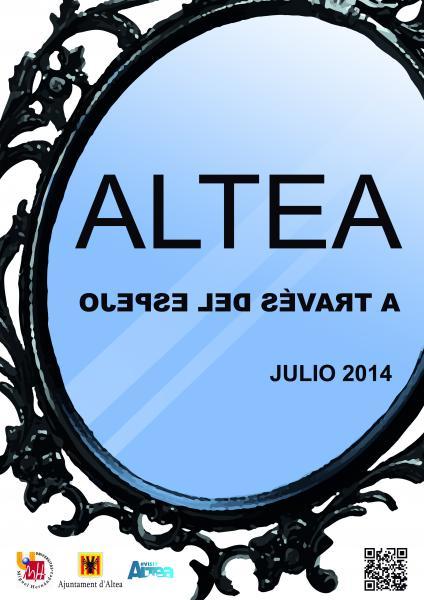 Description:
Actividades culturales
Dates:

Starts: 02/07/2014
Ends: 31/07/2014
ALTEA A TRAVÉS DEL ESPEJO
Intervenciones plásticas / Intervencions plàstiques / Artistic interventions
Las intervenciones surgen de una selección de proyectos llevados a cabo por los alumnos de la Facultad de Bellas Artes de la Universidad Miguel Hernández. Comisariados por la profesora Patricia Escario y el escenógrafo Joan-Sabas Pardo, los alumnos han trabajado a partir de ideas muy generales de la conocida obra de Lewis Carroll Alicia a través del espejo. Las propuestas pretenden -desde su disparidad- contextualizar y recrear en el entorno urbano algunos de los pasajes y personajes de los relatos. Todas ellas proponen nuevas lecturas del entorno y la visualidad urbanas, buscando la interacción con el espectador.Las obras generan un recorrido que se muestra a partir de elementos visuales y códigos QR impresos. Los códigos enlazan con una cuenta de Twitter [@HumptyD_Altea], en la que los espectadores pueden escribir comentarios y subir imágenes.La realización de Altea a través del espejo ha sido patrocinada por el Ayuntamiento de Altea y se enmarcan en las actividades del certamen Alteatre 2014.
Les intervencions sorgeixen d'una selecció de projectes portats a terme pels alumnes de la Facultat de Belles Arts de la Universitat Miguel Hernández. Comissariats per la professora Patrícia Escario i l'escenògraf Joan-Sabas Pardo, els alumnes han treballat a partir d'idees molt generals de la coneguda obra de Lewis Carroll Alícia a través de l'espill. Les propostes pretenen -des de la seua disparitat- contextualitzar i recrear a l'àmbit urbà alguns dels passatges i personatges dels relats. Totes elles proposen noves lectures de l'entorn i la visualitat urbanes, buscant la interacció amb l'espectador.Les obres generen un recorregut que es mostra a partir d'elements visuals i codis QR impressos. Els codis enllaçen amb un compte de Twitter [@HumptyD_Altea], al qual els espectadors poden escriure comentaris i pujar imatges.La realització d'Altea a través de l'espill ha estat patrocinada per l'Ajuntament d'Altea i s'enmarquen dins de les activitats d'Alteatre 2014.
The interventions arise from a selection of projects carried out by the students of the Faculty of Fine Arts at the Universidad Miguel Hernández in Altea. Curated by the professor Patricia Escario and the stage designer Joan-Sabas Pardo, the students have worked based on the main ideas of Lewis' Carroll well known work Alice Through the Looking Glass.The works intend -from their disparity- contextualize and recreate some passages and characters of the stories into our environment. They all suggest new interpretations of the environment and urban visuality, looking for the viewer's interaction.The works create a tour shown from visual elements and printed QR codes. The codes link to a Twitter account [@HumptyD_Altea], where viewers can post comments and upload images.Altea's town hall sponsors the realization of Altea a través del espejo which is part of the activities of Alteatre 2014 .
This office does not assume responsibility for sudden changes or variations of the events published on this site.