Enjoying some artichoke tapas in the Vega Baja
Publishing date 14/02/2017
The V Vega Baja Artichoke Tapas Route will be held from February 24 to 26 in establishments throughout Almoradí.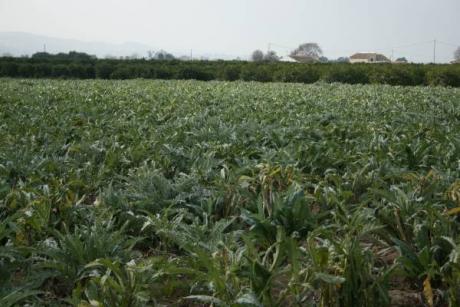 The Alcachofa Vega Baja (Vega Baja Artichoke) brand is a quality distinction that guarantees the care and selection of the very best crops. These fertile lands, the experienced farmers that tend to them, traditional irrigation techniques and the Mediterranean climate all contribute to yield these fresh and tasty artichokes. The V Vega Baja Artichoke Tapas Route, which is organised by the Almoradí Catering Association, was intended to put this unique product under the spotlight through a culinary route throughout local establishments.

From February 24 to 26, restaurants will offer sweet and savoury tapas that feature artichokes as their main ingredient for 2,50 Euros, with one drink included in the price. Moreover, whoever fills in the form handed out at the venues or in the tourism office will have the chance to win one of our many prizes.

Almoradí combines the finest products of land and sea, and it is thanks to these products that southern Alicante has developed its outstanding culinary culture. The town itself is set against the backdrop of typically Mediterranean landscapes. It is also very close to a number of environmentally significant natural spaces, such as the Pantano del Hondo and the Lagunas de la Mata. Do not miss this natural and culinary paradise that can be felt and experienced through the finest gems of its crops and traditions.